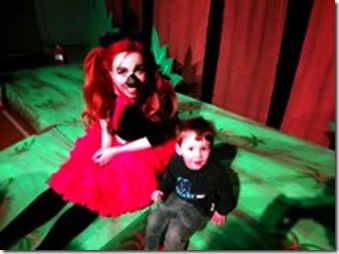 Photo. Andrew Simon . Squirrel with Thompson.
Be A Friend, the delightful children's mini-musical that is Orpheus Theatre's Yuletide gift to the community, knows how to communicate with its young audiences. It doesn't talk down to them as it tells the story of a lonely skunk named Sammy and his search for a friend. Without being the least bit preachy, it delivers an effective message against prejudice and for accepting people who are "different." The opportunity for audience participation is built into Iris Winston's lively and imaginative book, which is based on her award-winning play, Let's Be Friends. And a further trump card comes from the songs with their nifty lyrics by Gord Carruth and engaging melodies from Carruth and Bart Nameth.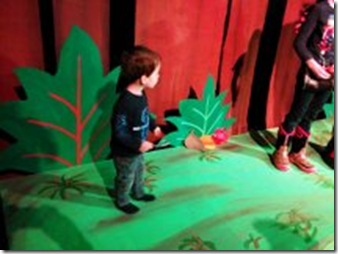 Same little fellow discovers the set..Photo: Andrew Simon
Add to this Orpheus's traditional concern for production values — albeit in the modest venue of the company's own simple performing space at Orpheus House — and you have a bundle of theatrical joy, one which keeps the kids happy and involved, while also managing to keep their parents engaged as well.
That can be no small feat with children's fare, but narrator Michael Gareau, who is also responsible for the imaginative direction of this show, begins drawing us into the world of this story as soon as he opens his storybook and begins telling us Sammy's heart-warming tale.
It is, on its own unpretentious level, a character piece, and that's another reason it works so well — and it's not just the performances and direction that are making this happen, but the contributions of such other members of the production team as Lisa Wagner (choreography), Raven Drake (costumes), Jenn Donnelly (design), and John Litster (musical director). This may be a simple staging but there is a symbiosis here, a shared sympathy for the material and for letting its charm pour out.
A little tightening might benefit Be A Friend even more next time it's done (and surely this must happen) but meanwhile we have every right to be happy with Fabian Santos's lonely, loveablee Sammy Skunk; with Donna St-Jean's lovely little turn as Sammy's mother; with the over-the-top comedy of Lawrence Mahusky as Sammy's swaggering redneck nemesis, Seth Squirrel; with Seth's trio of Squirrel chicks — Aliann Rozon as Steffy, Mary Ellen Vice as Susy, and especially Skye MacDiarmid as Sally, the sweet-natured one who is ready to accept Sammy, skunky perfume and all, immediately.
BE A FRIEND
Book by Iris Winston
Music by Gord Carruth and Bart Nameth
Lyrics by Gord Carruth
Based on the one-act play, Let's Be Friends, by Iris Winston
Storyteller . . . . . . . . . Michael Gareau
Sammy Skunk . . . . . . Fabian Santos
Sammy's Mother . . . . Donna St-Jean
Sally Squirrel . . . . . . .Skye MacDiarmid
Seth Squirrel . . . . . . . .Lawrence Mahusky
Steffy Squirrel. . . . . . .Alianne Rozon
Suzy Squirrel . . . . . . .Mary Ellen Vice
Producer . . . . . . . . . . .Drum Hudson
Director . . . . . . . . . . . Michael Gareau
Musical Director . . . .John Litster
Choreographer . . . . . .Lisa Wagner
Production Asst. . . . . .Marlene Hudson
Set Design . . . . . . . . .Jenn Donnelly
Technical Director . . .Steve Jones
Props, Costumes . . . . Raven Drake
Lighting . . . . . . . . . . .John Solman
December 21-22, 2013 1:00 pm & 3:30 pm General Admission $10 Orpheus House, 17 Fairmont Avenue