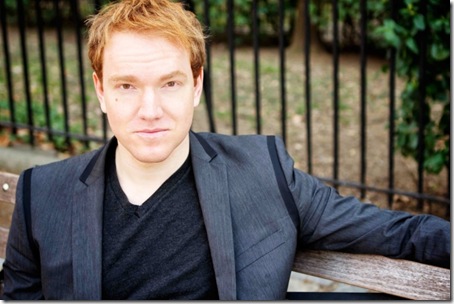 Photo: Eddie Hobson.Jonathan Estabrooks sings Baron Douphol in La Traviata by Verdi for Opera Lya
Concert performances of opera can often be problematic., and you can experience a severe let-down when the performers essentially drop anchor once they arrive on stage, disregard the drama and proceed on the assumption that their only job is to sing the music.
But Opera Lyra happily sets higher standards. They have trotted out that old war horse, La Traviata, and delivered a thrilling experience both musically and dramatically.
This, in spite of a straightforward concert setting — the female soloists in ball gowns, the men in white tie and tails, the National Arts Centre Orchestra behind them, and a full-throated Opera Lyra Chorus taking up the rear.
Both performers and orchestra were attentive to the needs of Verdi's score. Conductor Tyrone Paterson drew a silken response from his NACO musicians and sustained the kind of forward momentum essential to the opera's dramatic underpinnings. Vocally, there was consistently good work from the leads, led by soprano Corinne Winters's stellar work as the piece's consumptive heroine, Violetta.
Indeed, Winters proved to be an exciting discovery in this, her Opera Lyra debut. When she moved towards the spectacular climax of Sempre Libera, in which she ponders her attraction to Alfredo, there was no need to worry about the intricacies of that final high C: she had already proved her mettle earlier on, moving with confidence throughout Act One's extraordinary but ambush-ridden final scene. From the silvery assurance of the opening recitative through to the unfettered excitement of that climactic cabaletta, she was always in control.
More importantly, for all her assurance with runs and trills, dynamics and tonal modulations, she never lost contact with the inherent drama of the situation.
There was no credit in the printed program for stage direction, and what did exist was minimal — a few movements and gestures to indicate what was happening. But that was all Winters needed to communicate the doomed Violetta's growing psychological anguish — backed up as she was by the powerful dramatic resource of her voice.
Despite the restraints of a concert performance, she continued to tap this resource — once again passing the test in that crucial moment at the start of Act Three when Violetta reads a portion of Alfredo's letter aloud. Some sopranos throw away this moment — but not Winters who gave us a wrenching emotional soundscape which led us seamlessly into the next scene.
La Traviata, of course, belongs to its tragic heroine. In contrast, Alfredo has always seemed a bit wet — but Eric Margiore came through with a vocally confident and dramatically aware performance.
There was also some nicely realized work from the likes of Marion Newman as Violetta's friend, Flora, and from Jonathan Estabrooks as the possessive Barone Douphol.
If there is a villain in this piece, it 's Alfredo's domineering father, Giorgio Germont., played here by Gregory Dahl, This character can often seem stodgy in performance rather than frightening and Dahl did nothing to alter this impression. His rich baritone provided the evening with some arresting moments, but he didn't indicate much interest in the dramatic demands of the piece, being content instead simply to strike postures and avoid meaningful communication with other characters. This was painfully apparent in that big confrontation scene with Violetta: whereas Winters was trying to convey an anguish of spirit, a scowling Dahl was content to play to the audience and show off a bit of vibrato. Not good enough
La Traviata by Giuseppe Verdi
Presented by Opera Lyra Ottawa at Southam Hall, National Arts Centre, March 21 and 23
General Director — John Peter Jeffries
Artistic Director — Tyrone Paterson
Violetta — Corinne Winters
Flora — Marion Newman
Marchese D'Obigny — Benjamin Covey
Barone Douphol — Jonathan Estabrooks
Doctor Grenvil — Brian Wehrle
Gastone — Niels Aschengreen
Alfredo — Eric Margiore
Annina — Isabelle Lacroix
Giorgio Germont — Gregory Dahl
Commissinario — Christopher Mallor