The Last Wife is an exciting and purposed reimagination of Katherine Parr's history
The Last Wife is an exciting and purposed reimagination of Katherine Parr's history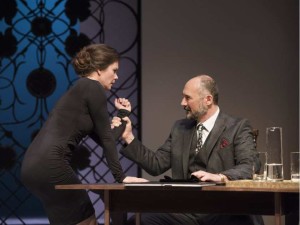 There's a bravery that sits at the heart of The Last Wife that caught me off-guard. Playwright Kate Hennig imagines the intimate conversations that may have occurred in the most private moments between Katherine Parr and her husband, King Henry VIII, and even conjures up an unexpected romance. A historical play, one might expect a dusty piece brimming with period costumes and old-school notions; to say that this production is anything but dusty is an understatement. This artistic team, with director Esther Jun at the helm, is exhilarating from start to finish. Yet, The Last Wife is also much more than a romantic yarn between an odd-couple—it's a story that reimagines Katherine Parr as a woman who challenges the status quo of her role as a woman and as the king's closemouthed wife.
The first scene in this play gives the audience no illusions that Henry is anything but an impenetrable wall of a patriarch, but there's a notable shift that occurs in the second scene: Katherine concedes to marrying Henry, but demands autonomy over her body—even in the bedroom. It is the type of conversation that feels more at-home in the 21st century than in the 16th. Hennig's text is marked by its use of modernity, ultimately crafting a piece of theatre that forces its audience to revisit an old story with a new lens. This shift of perspective is an established tradition that has roots in the Canadian theatre tradition. A modern example is Margaret Clarke's Gertrude and Ophelia, written in 1993. Hennig, like Clarke, takes an approach to narrative that is a blend of post-structuralism and feminism and finds ways that female characters may be reimagined, to have them disrupt or dislodge the patriarchal structures of their histories. And is there a better historical figure than Katherine Parr, the sixth wife to Henry VIII, for whom we can imagine such liberation? Katherine was a published writer, a regent, and the only one of King Henry VIII's wives to survive his supposed tyranny as a husband where all others were divorced, deceased or beheaded. What was it that made her unique? Was she simply a dowdy, complacent nurse-maid, and Henry, too old and gout-ridden to find occasion to have her killed? Hennig certainly doesn't see it that way.
The text is an exquisite symphony of twists in connotation, dynamic tension, and expert foreshadowing, much to the delight of any historians in the audience. The dramatic irony drips from the text, which is a tribute to Hennig's deft hand at working in the historical genre; the fact is the audience is likely privy to some or not all of the outcomes of these characters on stage, and so she plays with those expectations. After gaining a role in the proper succession of the throne, Bess, one of King Henry VIII's daughters from a previous marriage, misappropriates Homer's line, "there are none so fragile as man," and adds, "And so we should be ready!" In fact, she and her older sister will both reign as queens before their deaths as Mary I and Elizabeth I, respectively.
The Katherine that is the titular character of Hennig's The Last Wife is witty, heart-working, beautiful and unafraid to lock horns with her domineering husband. I couldn't imagine a more fitting duo than Celine Stubel and Oliver Becker as Kate and Henry. The couple feels right at home both as sparring partners and as unexpected lovers. Stubel's Kate is resolute, perceptive, and brings a velvet-smooth ability to sell her ideas to her fiery husband. Meanwhile, Becker as Henry is snide, sarcastic, cruel and witty in turn. Yet, he too, finds moments of softness that make the paring fathomable. The cast as a whole is a great success. Anie Richer and Mahalia Golnosh Tahririha play royal sisters Mary and Bess as polar opposites. Where Mary is moody and morose, Bess is a bubbling spring of naivety speckled with moments of unexpected insight. Sean Baek as Thomas is Henry's perfect counterpart as the romantic playboy without complications with who Kate can never be.
There is a delightful tension between each and every character on stage; some, the audience will expect, while others will only reveal themselves in the final moments. Still, there is an unmistakeable crunch that happens in the final moments of the play that may give its audience whiplash. Where the bulk of the play lingers on the moments that define Kate and Henry's relationship, the final scenes drastically change pace. The denouement is so filled with reveals that it feels disjointed with respect to the rest of the play.
Director Jun acknowledges the text's modern perspective and matches it in every aspect of the stage world. Shannon Lea Doyle's set is like a modern, minimalist nod to M.C. Esther's famous print, Relativity, with its high, slight archways that seem to create a strange illusion of false perspective. Doyle's costume design blends romantic wrap dresses, well-tailored suits and ordains them with livery collars and heavy capes. The sound design by John Gzowski feels equally modern with a nod to more classical sound arrangements. The world that Jun imagines feels so perfectly cohesive both with the text, and within its own aesthetic. Yet, Jun's work as a director of actors, too, is clear. The text is a cornucopia of allusions, innuendos, missteps and quick shifts on stage. The flow of this piece is such that you'll barely notice it's nearly three hours long.
There is a scene in the latter part of the play where the very dysfunctional royal family sits around the dinner table. Henry VIII broods over his gout-ridden leg, while his youngest daughter, Bess, accidentally throws her beloved, new step-mother, Kate under the bus. Meanwhile, Mary, Henry VIII's eldest daughter, meaningfully refers to him as "father", "King" or "dad", in turn, spitting the words at him with mock-obedience. Young Edward, Henry's prized son and first in line to succeed the throne, cowers under the table with his hands over his ears. It's a scene where each character reveals their fatal flaws, and their dialogue drips with innuendo. This scene, for me, captures the heart of this masterful merger of actors, stage work, and writing. The Last Wife has become a quick success on Canadian stages, first in Stratford, and then in Victoria. I would urge you to catch it at the GCTC in Ottawa until November 20; this is one for the books.
The Last Wife plays at the GCTC until November 20. Tickets: http://www.gctc.ca/plays/last-wife
The Last Wife
by Kate Hennig
Esther Jun – Director
Cast
Sean Baek – Thomas
Oliver Becker – Henry
Auden Larratt – Edward
Anie Richer – Mary
Celine Stubel – Kate
Mahalia Golnosh Tahririha – Bess
Creative Team
Jennifer Swan – Stage Manager
Shannon Lea Doyle – Set and Costume Design
Martin Conboy – Lighting Design
John Gzowski – Sound Design
Jacki Brabazon – Assistant Stage manager
Nicholas Harrison – Fight Director