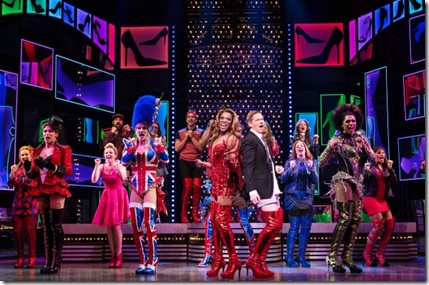 Photo. Courtesy of the NAC.
Kinky Boots, Book by Harvey Fierstein Music and lyrics by Cyndi Lauper, directed and choreographed by Jerry Mitchell
Think watered-down versions of Billy Elliott, mixed with slices of Les Cages aux Folles and Torch Song Trilogy and you have the theme of Kinky Boots, book by Harvey Fierstein, music and lyrics by Cyndi Lauper. Never a drag, though somewhat simplistic in its call for tolerance, the award-winning musical is based on the 2005 movie of the same name. Claimed to be a true story, it tells of two sons who did not want to follow in their fathers' footsteps.
Charlie, the son of a shoe factory owner in Northampton, and Simon, the son of a prize fighter from Clacton, tried to escape their small-town destinies, but when their paths cross, they walk down a new road together, creating kinky boots for cross dressers and drag queens.
Charlie, at first, reluctantly, then with passion, revives (reboots) the dying factory through the niche market of specialty boots, while Simon, the drag queen Lola, designs assorted versions of "two-and-a-half feet of irresistible tubular sex" — thigh-high, stiletto-heeled boots, built to support the weight of a man.
Primarily upbeat, Kinky Boots is a borderline rock musical that highlights Lola and her back-up group of Angels in performance, while emphasizing the contrast of life on the factory floor.
As Lola, J. Harrison Ghee is spectacular, dominating the stage at all times. His sensitive rendition of Not My Father's Son is particularly moving, while his body language, movement and vocal treatments create a totally convincing character throughout. Meanwhile, Rose Hemingway is enjoyably bubbly as Lauren, the spunky factory worker who gave Charlie the idea of catering to a niche market and Curt Hansen copes with the wet-blanket role of Charlie, despite a somewhat unappealing singing voice.
In general, as directed by Jerry Mitchell, with musical supervision by Stephen Oremus, the Broadway Across Canada production of Kinky Boots is entertaining, despite severe sound problems on opening night.
Kinky Boots continues at the National Arts Centre to January 1, 2017.
Kinky Boots, Book by Harvey Fierstein Music and lyrics by Cyndi Lauper
Directed and choreographed by Jerry Mitchell
Broadway Across Canada
National Arts Centre
Music supervisor: Stephen Oremus
Music director/conductor: Roberta Sinha
Scenic design: David Rockwell
Lighting: Kenneth Posner
Sound: John Shivers
Costumes: Gregg Barnes
Cast:
Mr. Price…………………………………Tom Souhrada
Young Charlie……………………………Collin Jeffery/Harrison Wright
Young Lola……………………………….Sebastian Maynard-Palmer/Christian Mullins
Simon Sr………………………………….David Jennings
Nicola…………………………………….Katerina Papacostas
Charlie Price……………………………..Curt Hansen
George……………………………………Jim J. Bullock
Don………………………………………Aaron Walpole
Lauren……………………………………Rose Hemingway
Pat………………………………………..Madge Dietrich
Harry……………………………………..Dan Tracy
Lola……………………………………….J. Harrison Ghee
Angels…………………………………….Joseph Anthony Byrd, Sam Dowling, Ian
Gallagher Fitzgerald, JP Qualters, Xavier Reyes, Sam Rohloff
Trish………………………………………Tami Dahbura
Richard Bailey…………………………….Ciaran McCarthy
Milan stage manager………………………Annie Edgerton
Ensemble: Joseph Anthony Byrd, Tami Dahbura, Madge Dietrich, Sam Dowling, Annie Edgerton, Ian Gallagher Fitzgerald, David Jennings, Ciaran McCarthy, Julia McLellan, JP Qualters, Xavier Reyes, Casi Riegle, Sam Rohloff, Andrew Scanlon, Tom Souhrada, Josh Tolle, Sam Zeller
Dance captain……………………………..Alex Dreschke
Touring orchestra:
Conductor: Roberto Sinha
Paul Baron, Steven Cuevas, Oscar Bautista, Garrett Hack, Jason Mellow, Doug Quinn, Jeff Roberts, Sherisse Rogers.