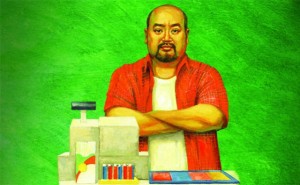 Kim's Convenience
By Ins Choi
A Soulpepper production at the National Arts Centre
In telling how a Korean patriarch and his family overcome the generation gap, Kim's Convenience also focuses on why Appa (father) is so reluctant to sell his corner store. The money would be welcome, but the store has been the centre of his life in Toronto's Regent's Park neighbourhood for so many years. If Kim's convenience store does not stay in the family, he fades into oblivion.
This charming, semi-autobiographical comedy with depth by Ins Choi, who also plays prodigal son, Jung, revolves around opening to closing on one fateful day. A slight weakness of the script is that the succession and relationship problems are solved a little too quickly for credibility.
Aside from this, Kim's Convenience is a delight from beginning to end, as presented by remount director Albert Schultz. (Weyni Mengashi directed the original version at the Toronto Fringe Festival.)
The authentic appearance of the excellent set by Ken MacKenzie immediately transports us to a familiar-looking corner store, where Paul Sun-Hyung Lee delivers a beautifully nuanced portrait of Appa. He is stubborn, prejudiced, patriotic, gentle, violent when necessary, feisty, loving, irritating and funny — a whole human being.
His counterpart is his daughter, Janet — an equally strong character as presented by Grace Lynn Kung. Andre Sills delivers splendid versions of four contrasting roles as realtor, customer, shoplifter and police officer, while Jean Yoon as Umma (mother) fulfills the cultural requirement of being a few paces behind her husband metaphorically.
The playwright calls Kim's Convenience his love letter to his parents and "to all first generation immigrants who call Canada their home." It is that and more, because of the universal truths it contains.
Kim's Convenience continues at the NAC Theatre to February 8, 2014.