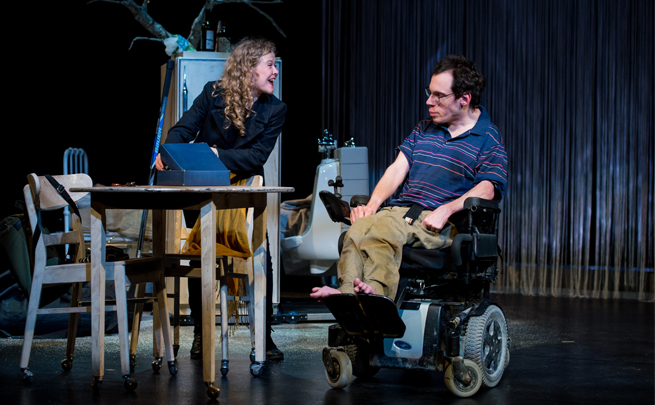 It's more than 40 years since a young, award-winning Canadian playwright named David Freeman told an interviewer that what he yearned for most in life was a meaningful physical relationship with another human being.
It was a poignant admission, because Freeman had been born with cerebral palsy. And throughout his life he resisted marginalization by a culture unable to get a handle on the notion that his kind were as capable as anyone else of an entire range of human emotions, including sexual need and desire.
These emotions were given caustic, funny utterance in Creeps, his 1971 stage triumph about the plight of disabled youth trapped in the coils of an unfeeling rehab centre. Its premiere at Toronto's Tarragon Theatre was a groundbreaking event — not simply because it broke  taboos by bringing subject matter like this to the stage, but because of its importance in legitimatizing Canadian drama at a time when playbills across the country were crammed with imported material from Broadway and London's West End.
Freeman, who died in 2012, helped pave the way for the emergence of other new Canadian dramatists — among them Brad Fraser whose lacerating new play, Kill Me Now, has just arrived at the NAC Theatre in a fine production from Winnipeg's Royal Manitoba Theatre Centre. And Fraser's incisively written blend of dark comedy and the sadness of being does have a link, both in situation and sensibility, to the long-ago Creeps in that its pivotal figure, Joey by name, is a youth with a disability. He has cerebral palsy — but let's not call him a victim.
Furthermore, as it did with the real-life David Freeman and the characters in Creeps, sexual need is starting to assert itself in Joey's late adolescence. Because this is a Brad Fraser play, with its readiness to talk about things that more conventional plays would never dream of talking about, we're left in no doubt  as to why Joey can't relieve himself: his hands are clenched permanently into fists. And in the opening scene, where we see Joey being bathed by his father, we're left in no doubt about how physically dependent and vulnerable this youngster is. He can't stand on his own. His clumsy bathroom attempts to keep himself clean have left him in discomfort. And now there are these sudden moments of sexual arousal which, through circumstance, cannot remain Joey's private concern.
But we're not getting a freak show here. A young Winnipeg actor named Myles A. Taylor proceeds to show us within the course of the play's 110-minute running time that Joey is very much his own person with his own likes, dislikes and fallibility — frustrated in the challenges posed by his condition, yet ultimately stoic in his acceptance of it. Taylor, who has cerebral palsy himself, is required by the script to display the condition in its more extreme manifestations — be they those curled-up fists or the fact that Joey's speech is so distorted that he sometimes can't make himself understood. It's a tough, observant characterization, one that takes full advantage of the moments of biting comedy provided for in the script,  and is also tempered by an essential humanity that asserts itself in the play's astonishing climax.
We're seeing a troubled household here, but not a classically dysfunctional one. It's certainly imperfect, offering sightings of flabby human bodies and the smell of pee. Fraser, a naturalistic playwright of the sort who would shudder at the thought of writing a traditional drawing-room comedy, finds his most comfortable spiritual home in the world of the alienated and marginalized.
Indeed, alienation drove his  early and underrated play, Wolf Boy, and it was at the heart of his most famous work, Unidentified Human Remains And The True Nature Of Love. And it's also lurking in Kill Me Now — a play with a rueful "if only" texture in its examination of characters whose options are running out as they approach crucial crossroads in their lives.
These concerns are particularly compelling in the case of Joey's father, Jake, a widowed parent who has devoted his life to caring for his disabled son — and who, in the process, has turned his back on a once promising literary career. Cory Wojcik's outstanding performance gives us a Jake who proves to be far more courageous, complex and tragic than the sagging, pot-bellied failure we initially take him to be, but even his resilience falters in the face of unexpected new challenges to the already shaky equilibrium of his existence. The abiding constant, however, is Wojcik's truthful and heartfelt portrait of unreserved paternal love. It's one for the memory books.
Indeed, love in its various forms threads its way through the evening, thereby tempering the brutal honesty of a world which seems often without choices. It's certainly present in Braiden Houle's fine performance as Joey's devoted, innately shrewd but badly messed-up friend, Rowdy, a youth coping with the canker of fetal alcohol syndrome. We see it as well in Andrea del Campo's solid work as Jake's sister, Twya, whose sturdy pragmatism has not deprived her of the ability to care, and in Sharon Bajer's sharply etched portrayal of Jake's mistress, a woman initially incapable of relating to Joey yet determined — for Jake's sake — to do so.
Amy Keith has contributed an economical but functional set design, although the size of that bathtub is a bit ridiculous. Sarah Garton Stanley's attentive direction, intent on reconciling the play's steely core with its warm, messy humanity, maintains a strong emotional line and deals effectively with the script's episodic nature. The result: powerful, potent theatre.
Kill Me Now continues at the NAC studio to May 6.
Director: Sarah Garton Stanley
Set and costumes: Amy Keith
Lighting: Hugh Conacher
Sound: Chris Coyne
Cast:
Robyn Dartona……………………………………………Sharon Bajer
Twyla……………………………………………………..Andrea del Campo
Rowdy Akers………………………………………………Braiden Houle
Joey Sturdy………………………………………………..Myles A. Taylor
Jake Sturdy………………………………………………..Cory Wojcik