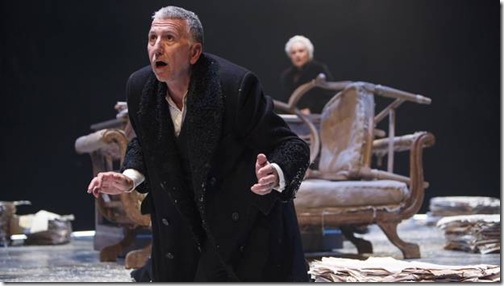 Photo: David Hou
STRATFORD, Ont. —  Henrik Ibsen's John Gabriel Borkman can be a tricky play to bring off.
We might assume that its main focus is the title character — a disgraced banker who has gone to prison for his misdeeds and later, in the confinement of his house, endlessly paces his upper-floor retreat while consoling himself with futile dreams of a return to public favour. But we assume wrong. Borkman's plight may seem to be an attention-getting dramatic  situation — but not when it's trumped by the powerhouse roles that  Ibsen has written for two women.
One is Borkman's long-suffering wife, Gunhild, played with soured intensity by Lucy Peacock. The other is her formidable twin sister, Ella. She is Borkman's ex-mistress, and she's dying of a terminal illness. Yet, in Seana McKenna's gripping performance, she is displaying her own steely fortitude and determination.
Both women are grasping at the same prize in the person of Borkman's son, Erhart. And in the  hothouse atmosphere of Carey Perloff's Stratford Festival production, he represents the fulfillment of two neurotic needs. In the case of Peacock's Gunhild, seething with buttoned-up possessiveness, we have a mother obsessed with  making Erhart her reason for living. In contrast, there is the quiet ferocity of McKenna's Ella who raised the boy during much of his adolescence and wants him for herself during her last months on earth. There's the sense that she will give no quarter to anyone who stands in her way. Furthermore, each woman has her own scenario for Erhart's future — and so, for that matter does the reclusive Borkman, who sees his son as some sort of conduit back to respectability.
Peacock and McKenna are formidable stage presences — indeed they are true festival treasures — and when they're allowed to be in confrontation with each other, the stage fairly sizzles. We witnessed that a couple of seasons back in Mary Stuart. It's happening again this autumn at Stratford — even though John Gabriel Borkman is a lesser work.
Indeed Ibsen's penultimate play has always been somewhat problematic, and this is reflected in the mixed reviews it has received over the years. Ibsen was retreating from naturalism here. Symbolism was a growing interest and so was a weakness for melodrama. In this new revival, Perloff recognizes that the script's most durable dramatic spine is found in battle of wills between these two women — and at its best her production crackles with emotional tension. Perloff also isn't afraid to acknowledge the play's moments of dark mordant humour — but unfortunately there are other times when she can't curb the titters that break out when things turn more melodramatic.
But it remains a worthy production of a difficult play. And Perloff works hard in pursuit of that most elusive goal — the maintenance of some sort of dramatic balance. That could not have happened without the observant and nuanced contribution of Scott Wentworth as Borkman. Wentworth is smart enough not to try to compete against his co-stars and their beautifully written roles. Instead he carves out  his own psychological profile of a haunted and hollow man. This Borkman may exhibit intermittent flickers of the resourceful financier he again wants to become, but  he remains the prisoner of his own vanity and self-deception. This is detailed acting, unexpectedly low-keyed at times but always interesting to watch. And we sense  Borkman's creeping frigidity of the soul.
An excellent Antoine Yared shows both strength and vulnerability as Erhart, the target  of all this morbid household possessiveness. Sarah Afful makes her own stylish and  subversive impact as the free-wheeling older woman who represents Erhart's escape to freedom. And Joseph Ziegler is outstanding as a kind and compassionate neighbour.
Designer Christina Poddubiuk's contributions convey an appropriate Nordic oppressiveness: You look at Gunhild's severe black dress and you can almost feel the contained but raging emotions. But Poddubiuk and her director don't quite solve the problem of a climax that sees Borkman labouring up a snow-bound hill. The in-the-round environs of the Tom Patterson Theatre force the hill to become an even more abstract symbol than the play probably intended. In other words, we must have faith that it's there, and that may be asking too much.
Several years ago, the Shaw Festival mounted a trouble-prone production of this play. And those troubles began when the people at the Shaw discovered there was a paucity of good translations. As a result, they cobbled together a script out of various English translations from the public domain, and the result was not memorable.
Stratford, however, commissioned a new translation of John Gabriel Borkman from Paul Walsh. It's a solid one, which gives a responsive actor plenty to work with, and most — importantly — retains a sense of time, place and culture. Despite the mania shown in some circles for reworking "old" plays to make them more relevant, this is very much a period piece and should be allowed to remain so.
(John Gabriel Borkman continues to Sept. 23. Ticket information at 1 800 567 1600 or stratfordfestival.ca)