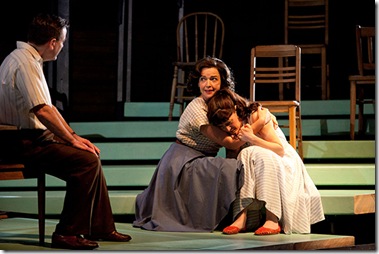 Photo by Luce Tremblay-Gaudette
The title of the play currently at the National Arts Centre is Innocence Lost.But the evening might more appropriately be called Promise Squandered.
The very subject matter is guaranteed to seize our attention, dealing as it does with one of the most shameful episodes in the history of Canadian criminal jurisprudence — the 1959 wrongful conviction of 14-year-old Southern Ontario schoolboy Steven Truscott for the rape and murder of a 12-year-old classmate, and his sentence to death by hanging.
More the pity then that this account of a shocking miscarriage of justice and of the 48-year battle to win acquittal for Truscott proves so hollow in execution. This co-production from NAC's English theatre and Montreal's Centaur Theatre is generally inert and bloodless in performance save for a few equally unfortunate moments of melodramatic excess.
Let's be honest — this kind of dramatic material does pose a problem. That's because — whether in books, movies or the theatre — certain subjects or themes can be guaranteed to push the right kind of button with the public and trigger a supportive approach sight unseen. Such is the case with the Truscott story. We're ready to be engaged by it, to embrace it, to be outraged by it. By attending, we're anxious to be participants in an Important Event. We're already conditioned to feel morally superior to all most of the participants in this horrible story — to the forces of law and order, to the townsfolk of Clinton and the families on the nearby military base — in bringing about the destruction of a boy's life.
But how colored should we allow our emotions to become? To what degree should we be prepared to make allowances for the inadequate piece of theatre that results?
In no way could Beverley Cooper's play be termed exploitive. The substantial research underlying it is obvious. She does provide scenes of genuine theatrical potential — a potential rarely realized in Roy Surette's production. There's more than a touch of docudrama here, but we can also assume that Cooper wants to ensure an emotional dimension of some kind: to convey the genuine anguish of both the Truscott family and the family of the murdered Lynne Harper amidst the nightmare that has descended on them.
By Cooper's own admission, she is not presuming to offer the "definitive word" on the play. She is, quite properly, offering her own take on that overriding question: How did this travesty of justice happen? She isn't the only playwright to explore this question — Calgary playwright Louis B. Hobson has also written about the Truscott case — but there is no denying the integrity of her script.
However, how well has she succeeded? That's a more slippery question to answer because Innocence Lost is not well-served by this largely tone-deaf production.
Two examples suffice. The horrors of that Southern Ontario summer are seen through the eyes of a fictional character — a schoolgirl named Sarah. She's a fellow classmate of Steven and the murdered Lynne, and these horrific events trigger her own emotional tumult — first of all intensely loyal to Steven, for whom she has a crush, then turning against him on the basis of faulty evidence, then torn between the factions rending the community, factions extending into her own home.
From this corner, Sarah seems incomplete as written, too much a convenient vehicle for a playwright seeking to link the various threads of a complicated story. But again, this may be unfair, given the way Jenny Young's perfunctory portrayal rarely gets below the surface. Surely, her director could have drawn out a performance of greater depth.
The second example has to do with the use of an unsettling poem, Requiem For A Fourteen-Year-Old, written by Pierre Berton in the days when he was writing brilliant columns for the Toronto Star. I still remember the impact that particular column had on me — it was a time when my main job was reporting on criminal trials in Southern Alberta, in particular providing coverage of one of the most gruesome murder cases in Canada's history. I remember the dismay among members of the legal community over the Truscott prosecution, and the dismay extended to attorneys for the Crown. I also remember the flood of hate mail that descended on Berton for his indictment of a judicial system so monstrous that it would sentence a 14-year-old boy to the gallows.
Excerpts from that poem surface in Innocence Lost — their power flattened into inconsequentiality and incomprehensibility by a clunky Greek-like chorus. It's almost as an afterthought that we hear they were written by Pierre Berton at the height of his influence. There are solid ways in which Berton's material could have been used but we don't get them here. Instead, we're again subjected to a failure of imagination.
There are some experienced actors in this production, most of them taking on multiple roles. But only rarely do any of them credibly inhabit a character. Repeatedly the performances are shallow, brittle and ill-defined. Attempts to convey depth frequently lead to excess and caricature — with Allan Morgan's overwrought work as trial judge, investigating officer and bereaved father being perhaps the chief offender.
There is genuine substance in Trevor Barrette's performance as Steven Truscott as he moves from sunny innocence to bewilderment to fear as the net closes about him. Fiona Reid, that most reliable of actresses, gives weight to the character of Isabel LeBourdais, the crusading Canadian journalist whose incendiary book on the Truscott case helped spur the way to Steven's exoneration, and is also touchingly convincing as the murdered girl's mother.
But the general shallowness of the performances hobbles the play's efforts to bring greater dimension to the community and therefore undermines one of the most unsettling aspects of the script — its evocation of a local culture in which the townsfolk of Clinton held the inhabitants of the military base in disdain, and a further military culture which was not only seemingly ready to cover up the truth but more ready to pass judgment on Steven Truscott, son of a non-commissioned officer.
So there are glimpses of a more interesting play struggling to break through. Trouble is — Surette seems to want to take it in some sort of pseudo-Brechtian direction, which may explain all those colorless characterizations.
James Lavoie's sparely conceived set is at least serviceable, but the production doesn't really seem to trust Cooper's text. Rather, there's a determination to explain, explain, explain through constant use of irritating back projections and chunks of unnecessary stage business. Among other things, the production suffers from over-direction.
Watching this misfire, one can't help thinking of Terence Rattigan's The Winslow Boy, which also deals with a real-life miscarriage of justice. American dramatist David Mamet has suggested this is perhaps the 20th Century English-language play that comes closest to perfection. It doesn't deal with a shocking murder. It deals with a father's battle to clear his son of accusations of petty theft. But when done well, it makes for gripping theatre, bringing with it a sense of the enormously high stakes, both legal and emotional, which are involved We never feel that way about Innocence Lost.
NAC Theatre
February 27 – March 16, 2013
Coproduction: the NAC English Theatre and Centaur Theatre company (Montreal)
Director: Roy Surrete
Set and Costume: James Lavoie
Original Nusic and Sound: Keith Thomas
Lighting: Luc Prairie
Video Design: George Allister and Patrick Andrew Boivin
Cast:
Sarah — Jenny Young
Mother, Registrar, Brown Owl, Darlene — Jane Wheeler
Father, Dan Truscott, Hays, Rev. Bragnell, Teacher, Constable, Lawyer, Oliver — Michael Spencer-Davis
Isabel LeBourdais, Woman from Air Force base, Mrs. Harper, Maggie — Fiona Reid
Mr. Harper, Harold Graham, Judge, Dr. Penistan, Hobbs, Local Man, Stoner — Allan Morgan
Jocelyne Gaudet, Lynn Johnston, Trudy, Barbara — Pippa Leslie
Juror's son, Gordon Logan, Richard Gellatly, Dougie Oates, Leger, NCO, Ken, Jim, Bob Lawson, Boy — Brendan McMurtry-Howlett
Steven Truscott, Son — Trevor Barrette
Lynne Harper, Karen Daum — Joan Wiecha
Doris Truscott, Butch George — Julie Tamiko Manning