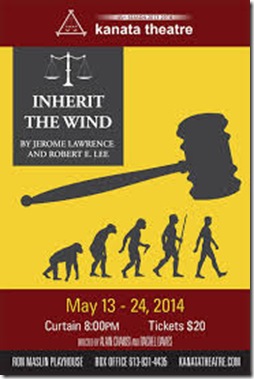 Poster from Kanata Theatre.
The central argument of Inherit the Wind should be irrelevant today. Sadly, it is still front and centre.
Last week, a University of Saskatchewan professor was fired following a public disagreement with the university president. That the decision was later reversed after a firestorm of negative reaction does not alter the threat to freedom of speech in academia today.
Jerome Lawrence and Robert E. Lee wrote Inherit the Wind in 1955, during the McCarthy era and the U.S. witch hunt to root out any vestiges of communism (real or imagined), thereby adding further texture to a drama that puts the right to think on trial.
Add to this that close to 50 per cent of Americans still say Darwin was wrong and Creationists who take the bible literally are right, little appears to have changed in the Bible belt's view of the world. The Butler Act, which made it illegal to teach that human beings were descended from a lower order of animals, was not repealed in Tennessee until 1967.
This was the law that schoolteacher John Scopes violated in 1925 when he dared to refer to Darwinism and question Creationism. Inherit the Wind, a fictionalized account of the infamous "Monkey Trial" (officially John Thomas Scopes versus the State of Tennessee), features thinly disguised versions of lawyers William Jennings Bryan aka Matthew Harrison Brady for the prosecution and Clarence Darrow aka Henry Drummond for the defence.
The play creaks after almost 60 years. Apart from the two lawyers and their key confrontation at the teacher's trial, most of the characters do little more than provide a chorus of support for Creationism and a literal interpretation of the bible. Only the character of the journalist E.K. Hornbeck (a nod to H.L. Mencken) is offered a slightly punchier persona.
In the Kanata Theatre production, directed by Alain Chamsi and Rachel Davies, Ian Stauffer as Drummond and Jim Holmes as Brady deliver strong and well-contrasted characterizations, particularly in the climactic moments before Brady's collapse.
Jennifer Brooks, as Rachel — the daughter of the Reverend Brown and the girlfriend of the man in the dock — is effective in demonstrating how torn she feels. And Beverley Brooks is convincing as Brady's concerned and loving wife (a standout despite the smallness of the part).
The rest cope with their roles, but the directors — there are frequently issues when there are two visions for one play — appear content to leave them as also-rans. While this production is a worthy effort, Chamsi and Davies do not completely overcome the challenges of dealing with a massive cast and maintaining tension through the extreme wordiness of Inherit the Wind. Even so, the core of the play remains an eloquent defence of tolerance in a sea of bigots.
Inherit the Wind continues at Kanata Theatre to May 24.
Review of Inherit the Wind
Inherit the Wind
By Jerome Lawrence and Robert E. Lee
Kanata Theatre
Directors: Alain Chamsi and Rachel Davies
Set: Jim Clarke
Lighting: Sudarsan Narasimhan
Sound: Tom Kobolak
Costumes: Marilyn Valiquette
Cast: (in order of appearance)
Howard………………………………………………..Alex Henkelman
Melinda……………………………………………….Natasha White
Rachel Brown………………………………………….Jennifer Brooks
Meeker…………………………………………………Bernie Horton
Bertram Cates………………………………………….Shane Bouchard
Mr. Goodfellow………………………………………..Joel Rahn
Mrs. Krebs……………………………………………..Jennifer Miller
Rev. Jeremiah Brown………………………………….Lionel King
Sillers………………………………………………….Paul Behncke
Dunlap…………………………………………………Michael Askwith
Mr. Bannister…………………………………………..Brooke Keneford
Mrs. Loomis……………………………………………Karen Germundson
Mrs. Blair………………………………………………Veronica Engelberts
Hot dog man/hawker……………………………………Carl Cachero
Elijah……………………………………………………Cheryl Zimmer
E.K. Hornbeck………………………………………….Lee Powell
Organ grinder…………………..………………………Madeline McKerrow
Timmy………………………………………………….Josh Bajpai
Matthew Harrison Brady……………………………….Jim Holmes
Photographer et al………………………………………Nick Chronnell
Mrs. Brady…………………………………………..…Beverley Brooks
Mayor…………………………………………………..Barry Caiger
Tom Davenport…………………………………………Geoff Williams
Henry Drummond………………………………………Ian Stauffer