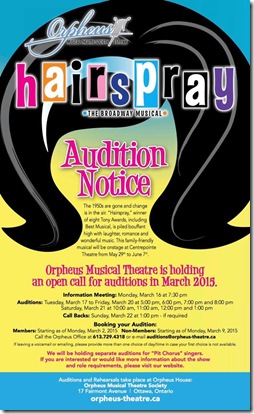 Photo: Modella Media
Underneath the froth, bubble and joy of Hairspray is a serious intent. While the 2002 musical (adapted from the 1988 movie) delivers its message about inclusion in a lighthearted, rhythmic way, the pain of being an outsider and the cruelty of some of the insiders is clear. This is particularly so in view of recent events in Baltimore, the setting of the award-winning show.
Although Hairspray's main aim is entertainment, it is also a metaphor about not having to be a Barbie-doll type beauty to ensure success and partly a statement about racism and social conditions in the 1960s U.S.
Hairspray takes place in 1962, the era of big-hair and back-combing fashion and the year before Martin Luther King's famous I Have a Dream speech called for an end to racial discrimination in the United States and it becoming a place where people would "not be judged by the color of their skin, but by the content of their character."
In the musical, the initial focus is on a fat girl with big hair and big dreams. Tracy Turnblad desperately wants to be one of the teen dancers on her favourite television show. First, she and Little Inez, a black dancer with a similar ambition, have to fight for the chance to audition for spots on the TV show.
The Orpheus Musical Theatre Society production of Hairspray, directed by Judy Follett, with musical direction by Gabriel Leury, starts in top gear with a cleverly designed bedroom scene and the clear-voiced Joyanne Rudiak as Tracy waking to deliver Good Morning Baltimore.
A well-drilled ensemble, with strong choreography from Mary Hills, and extra voices from the pit to add richness give the impression that the large cast is even bigger than it actually is.
Characters are well drawn, particularly Réjean Dinelle-Mayer's presentation of Edna, Tracy's mother (a part traditionally played by a man as a pantomime-style dame). Dinelle-Mayer plays down the comedy and emphasizes Edna's shyness and embarrassment about her weight in the early section, thereby giving greater punch to the breakout number of You're Timeless to Me with husband Wilbur (Jason Swan) — traditionally played by a smaller man. As with other aspects of Hairspray, the aim is to underline that outward appearances are secondary to character and emotional connections.
Other standouts among an extremely well-chosen cast are Tifanni Kenny as the gospel-singing Motormouth Maybelle, Kyle Villeneuve as Corny Collins and Axandre Lemours as Seaweed J. Stubbs.
Although there were some sound glitches on opening night, You Can't Stop the Beat in Hairspray. And the well-designed, well-sung, well-danced, high energy Orpheus production is an entertaining charmer.
The Orpheus Musical Theatre Society production of Hairspray continues to June 7
Book by Mark O'Donnell and Thomas Meehan
Music by Marc Shaiman
Lyrics by Scott Wittman and Marc Shaiman
Orpheus Musical Theatre Society.
Cast:
| | |
| --- | --- |
| Tracy Turnblad | Joyanne Rudiak |
| Edna Turnblad | Réjean Dinelle-Mayer |
| Wilbur Turnblad | Jason Swan |
| Corny Collins | Kyle Villeneuve |
| Motormouth Maybelle | Tifanni Kenny |
| Seaweed J. Stubbs | Axandre Lemours |
| Little Inez | Joy Mwandemange |
| Link Larkin | Storm Paul Davis |
| Penny Pingleton | Samantha De Benedet |
| Prudy Pingleton | Kelly Fuoco |
| Amber Von Tussle | Hayley Doelman |
| Velma Von Tussle | Sarah Blouin |
| Harriman F. Spritzer | Doug Thicke |
| Mr. Pinky | Bill Sangalli |
| Gym Teacher & Matron | Jennifer Quinn |
| Principal & Guard | Rick Burk |
|   |   |
| Council Members |   |
| Brad | Matt Chin |
| Tammy | Rachel Moore |
| Fender | Jeremy Sanders |
| Brenda | Hannah Grant |
| Sketch | Jamie Rice |
| Shelley | Catherine Carnegie |
| IQ | Blair Laugher |
| Loo Ann | Sarah Smythe |
|   |   |
| Dynamites |   |
|   | Carmella Gehrels |
|   | Sakeisha Ferron |
|   | Rebeka Tekle |
|   |   |
| Ensemble |   |
| Cindi Watkins | Githmi Gunapala |
| Duane | Brandon Van Nguyen |
| Gilbert | Marco Walker-Ng |
| Lorraine | Johanne Boisvenu-Henry |
|   |   |
|   | Kaitlin Charlebois, Lija Logan, Lori Sops, Michael McSheffrey, |
|   | Tara Morden, Emma Sangalli |
|   |   |
| Pit Chorus | Beverley Soifer, Brittany Boots, Erynn Paton, Eugene Oscapella, |
|   | Jesse Levy, Marty Black, Marylen Milenkovic, |
|   | Rachel Duchesneau, Sean Brennan, Steve Vesely |
Orchestra members not identified in program or on website.