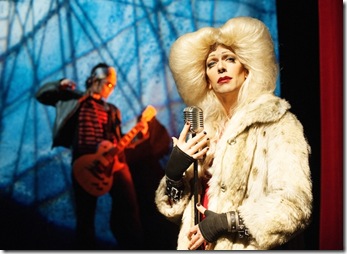 Photo. Andrew Alexander . Tim Oberholzer as Hedwig and Rebecca Noelle in the background as Yitzak .
The Vanity project's version of this glizty transvestite gender bender musical inspired much by David BowIe's feminine Ziggy Stardust personality and her (his) tranformation to the male Bowie, shows us  Hedwig , accompanied by  her East German colleagues,  frantically searching  for the other half of her being. The epitome of Post-Wall divided culture, she  takes us through her beginnings in post war torn East Germany in the aftermath of the destruction..bringing together all the music of the period including that of the biggest German and international stars of the time. With her ragingly campy non stop  poetic banter , Mr. Hansel Schmidt  (alias Hedwig)  tells us the story of her personal evolution, her need to leave  East Germany and  her mother, and find freedom. Her escape, thanks to a  throaty voiced male American, her tortuous gender shifting,  closely linked to the  symbolic of a split postwar Germany  emasculated  and  divided by the wall. Identified to other splits such as its destructive German Jewish past. She speaks of   ethnic cleansing,  of post-wall European and American  politics. Her alter ego Tommy Gnossis  taunts her and shines across the way and  brings us into the world of the "Who" bathed in parodies of the later Beatles, Nina Hagen and all the music of the period. Rebecca Noelle (a Johnny Depp look alike) but the lead singer of the local  PepTides group and a magnificent voice that rivals Whitney Houston's  ( I will always love youuuuuu! ) is Hedwig's sidekick. There are four back-up musicians  including Stewart Matthews playing lead guitar!! Who would have believed that!! It's one big surprise after the other.
However it is an unrecognizable Tim Oberholzer sporting the glowing ultra Farah Fawcet blond wig designed by Annie Lefebvre and  wearing Patrice Ann Forbes outrageously stunning costumes that turns this into a vastly talented muscial and theatrical performance that should immediately go touring around the country. I'm sure it would pack houses very easily. Oberholzer in this show is not the Oberholzer we have ever seen, nor have we ever suspected the range of his singing, dancing  and acting talents before this show. He is a great performer, with a powerful voice for this kind of pop music style that permeates his acting creates a highly dramatic event that produces a form of modern poetry that is very solid. . Punk, Rock, Ballads, Jazz fusions of all kinds  and anything you want to name, plus all the widest range of moods  you could imagine come exploding out of this highly charged performing body that is dressed as a female. It does not however, completely hide its masculinity, emphasizing all the ambivalence of this intriguing and talented personality who takes on a life of her(his) own and is literally transformed as the clothes peel off and the real person emerges…makes one almost think of Tremblay's Hosanna who strips down to the essential. However, the change on stage goes much deeper as the actor becomes a new individual with a new voice, a new being on stage and his former self emerges in a new body.  It is beautiful and  Tim has found his calling as we almost fuse the character with the actor.  This is who Tim can become as a performer, , a highly energetic singer, actor,dancing  wth limitless stylistic possibilities who can slide from multiple identities to all styles of music.  It was fascinating and the 90 minutes flew by.
One comment, the lyrics are extremely important because Hedwig sings her life story and if we don't get every single word we lose a lot. I found at times the loudest moments of the electronic music drowned out the wordsl I hope the people doing  the  sound mix will listen attentively and correct that  immediately at the next performance.
Too bad they aren't staying another week but you still ahve a chance to seem them until this Saturday. The place was packed with young and old, It is the theatre event of the season…along, perhaps with the Globe theatre from London which arrives this summer. So dont miss Tim Oberholzer as Hedwig and the Angry Inch. You will regret it….
Call 613-233-GLAD at the Gladstone theatre for tickets. They will be sold out fast..
Hedwig and the  Angry Inch
text by John Cameron Mitchell, Music and Lyrics by Stephen Trask
Directed by Stewart Matthews
Musical director: and sound design: Steven Lafond
Lighting designer: David Magladry
Makeup and wigs:Annie Lefebvre
Wardrobe: Patrice-Ann Forbes
Visual artist`Eric Rochon
Cast
Hedwig, Hansel, Tommy   Tim Oberholzer

Yitzak                               Rebecca Noelle

Stewart Matthews             Krzyzhtoff

Steven Lafond                   Schlatko  (drummer)

Marc Connor                      Jacek

Scott Irving                        Skszp (Key board)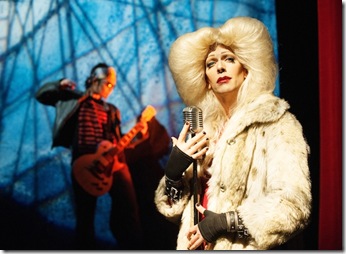 Photo Andrew Alexander featuring Tim Oberholzer and Hedwig and Rebecca Noelle as Yitzhak.