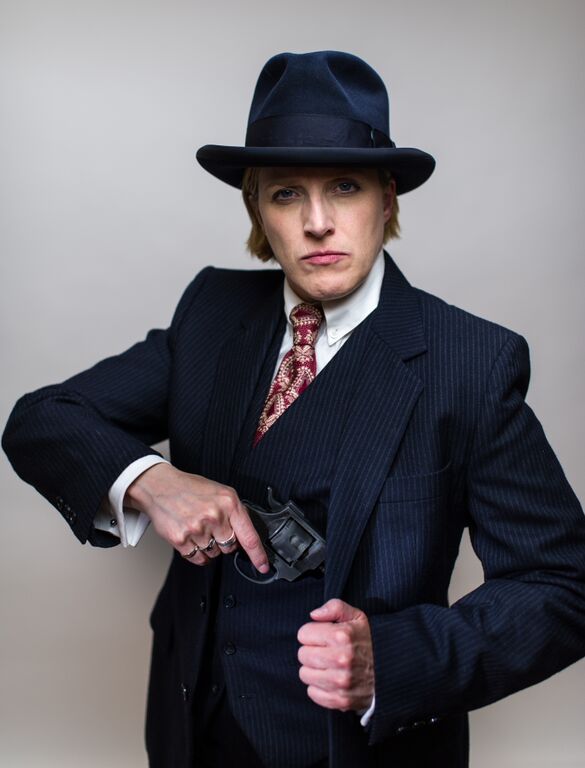 Gritty, powerful and excellently crafted, The Elephant Girls is an astounding story that transports its audience to a bar in historic, inter-war London, England. Here at the Ottawa Fringe, we are fortunate to have seen the world premiere of a show that will undoubtedly become a great success.
We meet Maggie Hale (Margo MacDonald), a member of the infamous girl-gang, the Elephant Girls, in a bar where she spins a tale about her years at the right-hand of ruthless gang leader Alice Diamonds. Pint after pint, Hale's dark humour starts to reveal the truth beyond the stories we might think we know….
This is an excellent example of historic playwriting – one that is not only well-researched and dramaturgically sound, but one that feels intentional. The story is framed such that the audience is treated as if we've stumbled into a bar, and into the arms of the notorious Hale who is half in the bag and ready to talk. This endows the story with a sense of realism, which is further actualized through Mary Ellis' clever direction.
But the story is also purposed. MacDonald weaves Hale's sexuality into the plot—a lesbian in London in the early 1900s would be quite subversive —and what begins as a bit of an elbow-nudge slowly morphs into something much more meaningful. A repressed shame surfaces throughout Hale's story, and the audience learns that she is an outcast who has found shelter in the arms of the Elephant Girls.
The story is one that will slowly draw you in as fiction gives way to fact. Though she has a gritty exterior, Hale's sense of humour masks violence, sadness, and periods of deep isolation. MacDonald is a powerful actor, and now, it seems, a powerful writer as well.
THE ELEPHANT GIRLS
by Margo MacDonald / Parry Riposte Productions
Venue Léonard Beaulne studio.