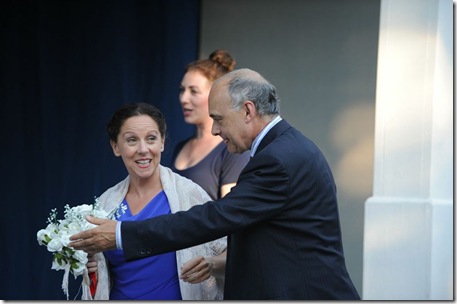 Photo Courtesy Saint Lawrence Shakespeare Festival
Alix Sideris (Gertrude), John Koensgen (Claudius)
This cleverly snipped, tightened and neatly arranged script which clarifies the most vital moments of Hamlet's descent into raging anger after the death of his father, keeps us on our toes from beginning to end. I almost had the impression I was watching a new reading of Hamlet as performed by that volcanic young actor Eric Craig, so aptly directed by Rona Waddington.
The play is set in a contemporary world  of smooth, minimalist  forms and modernly saturated colours, while the characters speak Shakespeare. Even so, there is no sense that this language is archaic, or misplaced. It all sounds perfectly in place, a testimony to Mme Waddington's clear taste for precision, for choreographed gestures, for clearly articulated speech, that goes beyond the brooding troubled, enigmatic youth of the title.
This Hamlet never allows you to take your eyes off the stage! Curiously, all the performances were not excellent but Waddington kept springing surprises on us with leaping entrances, curtains opening, and actor's crossing over as others were talking. The staging was exciting as it highlighted the most central moments, to create obvious logical links between certain encounters and Hamlet's ferociously emotional reactions. Thus, his anger became more understandable, his reactions always justified. The speeches took on a new, even clearer meaning.
Hot tempered, excitable, Eric Craig's version of Hamlet fore grounded a rage that burnt itself into the whole play while the actor clearly performed  madness in front of Polonius, only  to annoy him. After that first meeting with his father's ghost (Alan Price in a finely conceived mask of the dead) when he learns the truth about his father's death, we see how his broken heart fills with raging anger that must seek vengeance for the "foul deed"Hamlet's  outrage that spills onto Gertrude in the scene where the young man thinks she has conspired with Claudius to poison the King , becomes a nearly uncontrollable frenzy that has the young man close to brutalizing his mother, trying to convince her to keep away from Claudius' adulterous bed and assist him in his revenge, even as he unwittingly kills Polonius. Alix Sideris (Gertrude) blossomed in that scene of heightened anger and grief when she realizes the crime that has been committed, and her performance, at that point, takes on a new depth which was very moving indeed;  the only character who elicits such a response.
Shannon Taylor as Ophelia, is no longer the sweet lovelorn daughter of Polonius, but a young person who evolves from a confused young girl to a deranged, near hysterical creature, also deeply smitten by the death of her father (Polonius). Her famous mad scene with the bouquet of flowers and herbs, becomes frenzied gestures of helpless despair. Crawling about on all fours, she tries to pluck the imaginary flowers she has drawn on the ground, frantically tracing the shape of her hand, then she runs off but not before embracing her brother (Laertes) in a moment of horror. Then, Laertes returns with a lifeless Ophelia dripping water while the shock is sustained by cutting long descriptions of the tragic drowning, and actually showing us the body!   The moment is truly one of exacerbated Romanticism. This Ophelia is angry, nearly frothing at the mouth, fed by some great internal fire that makes her howl as her internal pain is exteriorized by great waves of her beautiful speaking voice that has been snuffed out. (By the way, Taylor both sings and speaks beautifully).
As for the musical interludes which served as prologues to various parts of the play and as the first portion of the players staging of the Mousetrap,  they were less successful. I would have preferred that they speak the Mousetrap episode from beginning to end. The singing and the music diminish the murderous intensity of the event and break the mood of vengeful plotting  between Hamlet and the players.
Also good were Paul Rainville as kind old Polonius, making us truly regret his death. This extremely versatile actor sings, plays the guitar, and can even be seen in a concert on July 28. (note it in the programme). The fiery Laertes (Kelly Penner) can barely keep from killing Hamlet, even before the famous battle scene at the end. Especially noteworthy was the moment between Laertes and Claudius (John Koensgen)  as the uncle turned king reveals his truly treacherous side when he sets up his plot to have Laertes kill Hamlet with the poisoned foil and the poisoned drink. The final sword fight was beautifully choreographed but it was almost outdone by the gruesome murder of Claudius that left the audience gasping.
However, in spite of all the excellent performances one is left with the sense that this  is nevertheless a strong ensemble piece, dominated by the vision of a director who has taken some very talented actors and used them to create a monstrous atmosphere worthy of the most vicious vengeance play. Director Waddington anticipates those bloody Jacobean vengeance tragedies which were about to come into being upon the arrival of King James a few years later ( 1603 – Hamlet was apparently written sometime between 1598 and 1601). There is nothing delicate or brooding about this performance, It is bloody, and angry and violent and exciting, perfectly suited to our contemporary sensibility!! And yet, the nuances escaped neither the actors nor the director. That is what makes it wonderful, and a Hamlet we will not forget.
Hamlet by William Shakespeare,
A production of the St. Lawrence Shakespeare Festival
Directed by Rona Waddington
Set design: David Ring
Costumes: Alex Amini
Fight direction: Dorian Foley
Music for Mousetrap: Grant Tilley
Cast:
Hamlet Eric Craig
Claudius John Koensgen
Laertes Kellly Penner
Polonius Paul Rainville
Gertrude Alix Sideris
Ophelia Shannon Taylor