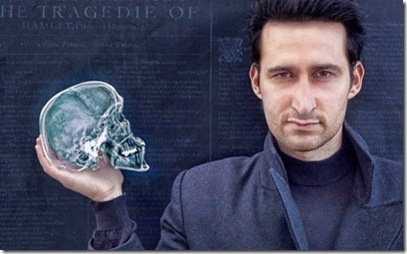 Photo: Andrew Kenneth Martin.
HAMLET (solo) is a one-man play created by featured actor Raoul Bhaneja and director Robert Ross Parker. It's a slightly truncated version of Shakespeare's HAMLET in which Mr. Bhaneja, plays, or rather indicates, all seventeen characters. Working on a bare flat stage surrounded by black drapes and using no props, Mr. Bhaneja wears a simple black long-sleeved tee-shirt and black jeans. The lighting is utilitarian and the house lights are only dimmed to half, so the actor is clearly visible when he moves into the audience.
First let me say that if you're not pretty familiar with HAMLET, despite the detailed synopsis in the program, you'll find it confusing. It does provide an ego boost for those in the audience who clearly follow it. Mr. Bhaneja is physically very facile and uses primarily body language to delineate the characters. However in playing all seventeen roles the emotion and depth of the original characters is lost. We're left with hollow physicalizations. Granted it's quite a feat of memorization, but so is any solo show. Think, for example, of I AM MY OWN WIFE, A THOUSAND EYES and the work of Pierre Brault. These are solo pieces that present many characters, but with great depth.
I guess the big question for me is "Why." The piece seems to me to be ego-driven. I confess my mind began to wander in Act II. When Mr. Bhaneja began to speed through the poisoning of the rapiers, all I could think of was the old Danny Kaye movie THE COURT JESTER. "The pellet with the poison's in the vessel with the pestle. The chalice with the palace has the brew that is true." In any case, two hours, even with an intermission, is far too long for a one-trick pony.
HAMLET (solo) runs in the NAC Studio through November 23 TKTS: 613-947-7000
HAMLET (solo) produced by NAC English Theatre, Hope and Hell Company in association with Richard Jordan Productions Ltd. (UK)
Conceived by Raoul Bhaneja & Robert Ross Parker
Director: Robert Ross Parker
Original design concept: Deeter Schurig
Lighting consultant: Rebecca Miller
CAST: Raoul Bhaneja