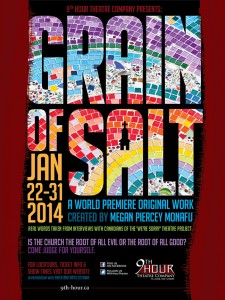 Grain of Salt
Production: 9th Hour Theatre Company
Script: Megan Piercey Monafu
Art is a form of communication. It communicates ideas with us using a variety of tools. So, while the main rule of communication, in general, is to know your audience, an even more important rule for the art as a communication vehicle is to know your medium. Even the best idea supported with the highest level of creativity will not reach its "target" – that is to say the audience – if the author and the director do not respect the theatre as a specific medium. I understand what The 9th Hour Theatre tried to tell us (or, at least, I think I do): despite our differences, one thing that (should) connect us is love. You may call it God or just Love, but it has to include everybody and be ruled by the natural law of tolerance, respect and understanding. If there are places such as Heaven and Hell (or an idea of such places as symbols of good and evil) – that Heaven should be a granted reward for every good soul. Merit should be based on each individual's deeds, and not on what has been socially accepted in a certain period in history. I believe that was the message, and I hope that I have gotten it right.
I hope! Unfortunately, it is hard to be sure because the play was not well adapted to the medium. Although the idea was intriguing, the interpretation failed to hit the mark. The text was crowded, actors were not up to the task, and the direction was non-existent. But, let's start from the beginning.
The scenario of the play "Grain of Salt" is based on a number of interviews on the theme of faith. The most diverse views were heard, related issues were tackled, and the impression of chaos was thorough. The author probably wanted to depict the state of chaos that surrounds us in times when old values are falling and being questioned. The problem is that the chaos escaped the control of the director where it should not have. Creating a state of big confusion demands much more that conflicting opinions expressed on stage. It requires a complete idea, clear direction and a thread that connects it all, so that the chaos is but an artistic tool – not the entire play. Another problem only to be expected in an overcrowded text is the lack of depth in any part of it. Everything is left on the surface, just mentioned for mentioning's sake. There is no exploration, no relations and no connection to anybody or anything. This is unfortunate, because the idea is excellent – it should be explored and executed, probably as a series of plays rather than a single performance.
Although it depicts a chaotic atmosphere, the direction could use a much more firm approach in order to find a way to piece the fragments together and to lead the play toward possible resolution(s).
Acting could be a little more polished, too. Diction is very important for actors, especially if they have to convey ideas rather than to portray a certain character. It is a very demanding task – the actor should be able to bring the shape, colour and soul to something completely abstract and immaterial. Every word uttered on the stage, every movement, every single bit of body language matters. Adding choreography to liven up the set is a smart move, but it must be purposeful and executed perfectly, otherwise it is just awkward. Here I must mention the superb acting of Lori Jean Hodge. She was the only one who came close to the realization of the ideas she interpreted.
All in all, I respect the work The 9th Hour Theatre and usually cannot wait to see what they will bring next. Their topics are challenging and their devotion to theatrical work is noteworthy. They often produce very good plays (remember "My name is Asher Lev"?). This particular one is not their best. Still, I hope for audience sake, that the company will try to incorporate some of its ideas in their future work.
Cast:
LORI JEAN HODGE
ROBIN HODGE
JEFF LEFEBVRE
MEGAN PIERCEY MONAFU
MITCHEL ROSE
Creative Team:
KELLY RIGOLE (Director, Script Consultant)
CLAUDE HACHÉ (Production Photographer)
STEVEN LAFOND (Musical Director)
SUSAN MARRINER (Graphic Designer)
Grain of Salt plays at:
Jan 23 – Pressed Café
Jan 24-26 – Avalon Studio
Jan 28-31 – Lunenburg Pub