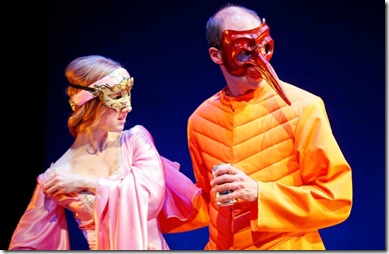 Photo. Julie Oliver
As if Constance Ledbelly, dressed in the drabbest outfit ever and nibbling at a cheese slice in her office as she labours over esoteric academic pursuits and dreams of true love, didn't have enough problems.
Then her creator, playwright Ann-Marie MacDonald, tosses the hapless assistant professor of English down a rabbit hole that lands her in the middle of William Shakespeare's Othello and Romeo and Juliet. There Constance, against her will, becomes a character in the plays, getting swept up in everything from old-fashioned sword fights involving doublet and gown-wearing folks to equally old-fashioned romantic dilemmas and inadvertently changing the course of the two plays in the process.
No wonder the poor lady looks a little out of her depth. Constance, played by Margo MacDonald (no relation to the playwright), is the centrepiece of this clever and funny 25-year-old play about a voyage through a time warp. "I've only ever gone on package tours," says the academic at one point, as fearful as she's intrigued by what's happened to her. The play is also about self-discovery, about re-emerging from the rabbit hole a fuller and more self-aware person.
Alas, this production of MacDonald's play never quite discovers its own potential (Read more….)http://www.ottawacitizen.com/entertainment/Review+Goodnight+Desdemona+good+luck/9228243/story.html