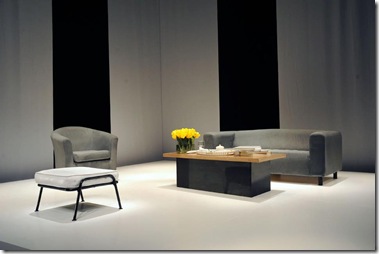 Set by Brian Smith. Photo: David Pasho
If you can believe James Richardson, artistic director of the happily resuscitated Third Wall theatre company, God Of Carnage is destined to become a classic.
Oh really? Worthy of being mentioned in the same breath as The Bacchae, King Lear, Tartuffe, The Importance Of Being Earnest, The Cherry Orchard? Let's keep things in proportion — especially when it's a script from a playwright like Yasmina Reza.
That this Paris-based writer has an instinct for the dramatic jugular is evident from both her first international success, the far more substantial Art, and God Of Carnage, which is currently turning the Irving Greenberg Theatre Centre into a nightly emotional battleground. But let's not forget that when it comes to her enthusiastic English-speaking following, she also benefits from the masterful contribution of her translator, award-winning British playwright Christopher Hampton.
Hampton delivers the kind of witty, pungent dialogue that good actors line up to do. That's one reason why companies all over North America are scheduling Yasmina Reza plays. There are other factors in her popularity with theatres as well. She goes for small casts, always a good way to save money. Her plays work on simple sets — witness the spare but effective design concepts of Brian Smith for this new Third Wall production — and that's another budgetary bonus. The running times are short — which means no union overruns. Above all she's — gasp — trendy.
> Her reputation as a social satirist rests on her zeal for writing plays about adults behaving badly. These elements are on corrosive display in Toronto director Ross Manson's outstanding production for Third Wall — a production that also offers a quartet of triumphant performances. When that fine actress, Mary Ellis, starts losing the cultivated facade of her early scenes and dissolves into an outpouring of venom towards everyone else in the living room, the play's main preoccupation — the fragile veneer of civilization that separates us from the savages — receives memorable utterance.
Ellis portrays Veronique, a political activist who has written a book about the Darfur tragedy but who also flaunts her radicalism as some sort of fashion statement — so how shallow is she really? Veronique is married to Michel, cunningly introduced here by John Koensgen on a deceptive note of blandness which eventually leads to something more unpleasant. This guy is more than an vacuous appliance dealer: he's a coward and a bigot and his treatment of his child's pet hamster suggests a moral vacuum.
Michel and Veronique are playing host to Alain (Todd Duckworth) and Annette (Kristina Watt) — and within minutes of the play's opening you can sense that the tone of excessive politeness which all four are maintaining is beginning to crack. It's supposed to be a civilized meeting — resulting from a schoolyard fracas which saw the son of the hosts injured by the offspring of the two visitors. And, as happens, in such situations, things — as they say — go from bad to worse.
Todd Duckworth's self-absorbed Alain is a shifty lawyer who stands to make big money with his defence of an equally shifty pharmaceutical company. Trouble is — he's continuously on his mobile plotting legal strategy, to the mounting fury of the other three in the room. Then there's the excellent Kristina Watt, veering between hysteria and common sense, in the trickiest role of the evening — especially when Annette is required to throw up over a priceless art catalogue, a moment which triggers a revealing response from Mary Ellis's Veronique and underlines the script's hang-ups over bourgeois hypocrisy.
One of the play's New York producers called God Of Carnage a comedy of manners without the manners — a label more noteworthy for its cleverness than its perspicacity.
From this corner, Art remains a far worthier play because it dealt with genuine originality about aesthetics — a dauntingly elusive theme given substance in that play by showing how an abstract expressionist painting can test the friendship of three individuals.
But God Of Carnage does not represent something bold in dramatic literature — in spite of what its admirers might think. There's nothing remarkable in its thesis that civilized conduct among human beings has a thin veneer. William Golding told us that in Lord Of The Flies, as did Edward Albee in Who's Afraid Of Virginia Woolf, Shakespeare in King Lear, and pulp-fiction writer Edgar Rice Burroughs in his Tarzan adventures.
What we do have is watchable, efficiently nasty entertainment, splendidly performed — with one memorable moment which anyone who hates cell phones will truly savour. But let's not call it groundbreaking. 
God of Carnage by Yasmina Reza
Directed by Ross Manson
Set designer : Brian Smith
Lighting: Rebecca Miller
Sound design: James Richardson
Cast:
Alain Reille………….Todd Duckworth
Véronique Vallon…….Mary Ellis
Michel Vallon…………John Koensgen
Annette Reille………….Kristina Watt
God of Carnage plays at the Irving Greenberg Theatre Centre until March 2. Call 613-236-1425