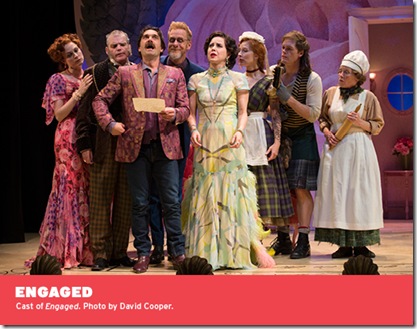 Photo: David Cooper . Engaged
The Shaw Festival has decided to sprinkle a bit of nonsense into a Niagara summer — but it's nonsense with a satirical agenda.
William S. Gilbert's Engaged is an 1877 farce about marriage and money — not an unfamiliar theme but one that has proved of abiding interest throughout centuries of drama.
In this instance, it inspired Gilbert to filter it through his own somewhat sour prism, and the result is perhaps his most enduring stage comedy.
The playwriting half of the Gilbert and Sullivan partnership had a view of the universe that ranged from barbed whimsy to outright scorn, and that viewpoint finds particular utterance in this scathing send-up of human greed. Morris Panych's new production at the Royal George Theatre takes due note of Gilbert's jaundiced disposition, but he also ensures that Engaged is an airborne delight in performance.
Panych can do frivolity very well, and Engaged is no exception. But he also sustains an undercurrent of irony. At one point in the proceedings, a key character bemoans the mercenary culture of the day: "What a terrible thing is this insensitive craving after money," he tells us.
Indeed, a terrible thing. But the joke here is that pretty much everyone in the play is lusting for gold or its equivalent.  That even includes the trio of quaint but mercenary Scottish rustics we meet at the beginning of the play. They're given to sabotaging trains so that wealthy passengers must pay for refreshments and accommodation while waiting to continue their journey.
Scots encountering this play today may well see it as further justification for secession. Yet there's something disarming in the shamelessness of these caricatures: Martin Happer a gangly pleasure as Angus, the kilted and lovelorn train derailer; Julia Course, a feisty charmer as Maggie Mcfarlane, the object of his passion; and a scowling Mary Haney as the protective Mrs. Mcfarlane, a stubby force of nature who's about as restful as a grenade.
However, good as they are, these three might in future ease up a bit on their Scottish dialects, which were often so incomprehensible opening night that you almost needed subtitles. Knowing what's happening at this point is important to the play's narrative.   Furthermore, these early scenes, set in a humble cottage garden on the border between England and Scotland, also help define the world of the play.
It is, of course, an artificial world. But it's one that's capable of asserting its own silly reality in the same way that P.G. Wodehouse did with his Jeeves and Blandings Castle stories. And designer Ken MacDonald, very much in a pink frame of mind on this occasion, helps draw us into it with the over-the-top playfulness of that Scottish garden in the opening sequence, and with the wackiness of the London drawing room he concocts for us later on. So it's a world in which the play's characters, preposterous though they may seem, can belong and misbehave.
Some of these characters are among those whose whose train is derailed early in the play and are driven to seek Scottish hospitality. Others we meet later on in London. What they have in common is a preoccupation with money. Do love and romance also play a role here? Well, after a fashion — but also conditionally, given that their fulfillment is so dependable on cold, hard cash.
Panych manages to maintain some kind of  clear narrative line in a script that revels in complications. Given those complications, should we attempt even a short-hand version of what's happening in this play? Such a mission has its hazards, but one can safely report that much of the action revolves around a desirable 32-year-old male named Cheviot Hill. Gray Powell's very funny performance is a study in disheveled bohemianism — there are moments when costume designer Charlotte Dean impishly clothes him in such a wardrobe mismatch that it looks like the product of a quick visit to Goodwill. And Powell earns further marks for deftly steering his way through one extended monologue that is wickedly revealing.
Cheviot poses some vexing problems to those about him. One has to do with the fact that he's rich (although also a tightwad), the other is that he can't control his romantic yearnings and can't resist proposing marriage to each new woman who enters his quivering orbit.
The possibility that under Scottish law Cheviot may have inadvertently become married provides the evening with one of its farcical conflicts — and Gilbert cunningly complicates matters further by placing the purported ceremony on disputed territory — a farm property that straddles the border and is partly in Scotland and partly in England. So in which country did the alleged nuptials actually take place?
A number of young women have a keen interest in knowing the answer. One is Belinda Treherne who accidentally falls under Cheviot's rapturous gaze in Scotland and finds herself successfully wooed by him. Then there's that sprightly Scottish lass Maggie, to whom Cheviot has also proposed. Finally, back in London, there's the eager Minnie Symperson, to whom Cheviot has been engaged for some time.
Is it love or Cheviot's money that has them eying the altar? That W.S. Gilbert's play even asks such a question is an indication of where it's really at. But the script's fun mode is also in full throttle in an amusingly staged drawing room encounter between two competitors for Cheviot's hand. One is Nicole Underhay's Belinda, an unexpectedly formidable kitten. The other is the engaging but determined Minnie of Diana Donnelly, a performer confident enough to meet any challenge: decked out at one point in a pink gown festooned with a godawful explosion of flowers, she manages to wear it with a true but mischievous sense of style.
Want more complications? Well we have the assured visual comedy of the angular Jeff Meadows, who in this show is part walking yardstick and part a bizarre representation of that darling of the Bloomsbury set, Lytten Strachey. Meadows portrays someone called Belvawney, a sort of friend and keeper to the unpredictable Cheviot. To be more specific, if he keeps Cheviot from marrying — a challenging task — he's guaranteed an annual stipend of a thousand pounds, big money back in Victorian times. Yet what happens if he falls in love himself? Aha, more dotty complexity.
Also contributing to the mix are Shawn Wright, suitably unctuous as Minnie's uncle, who also has money on his mind, and a bewhiskered Ric Reid making like Yosemite Sam in the role of a caterwauling kilted major. And yes, there's a neatly observed cameo from Claire Jullien as a maid named Parker.
There's also a bonus of sorts in a pair of robust musical-hall turns from Shawn Wright and Diana Donnelly, both of them unrecognizable.
Engaged is by no means a foolproof play. A bad production can be drudgery. But that's not the case at the Shaw. Its revival of Engaged is as refreshing and inconsequential as a summer shower — and we welcome it.
(Engaged continues at the Royal George Theatre to Oct. 23. Ticket information at 1 800 511 SHAW or shawfest.com)