FUNKED UP FAIRY TALES: A Hit at the Depot Theatre, Westport NY
Reviewed by Connie Meng
12
Aug
Posted:
August 12, 2013 Monday at 9:03 am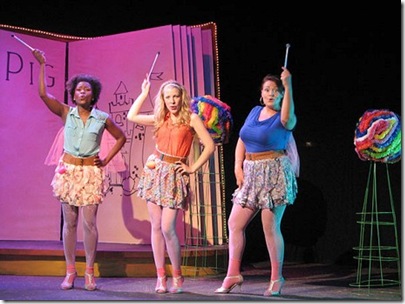 The Depot Theatre is fast becoming known for producing new musicals. They've got a real winner with FUNKED UP FAIRY TALES that opened Friday night. With book, music and lyrics by Kirsten Childs, it's an imaginative and very funny amalgam of several familiar fairy tales. The contemporary pop score show-cases this cast of terrific singers, well able to handle the complex and clever lyrics. Miss Childs is a writer and composer to watch.
I'm not even going to try to summarize the plot. Suffice it to say that it concerns the tasks set for three fairies upon their graduation. It manages to combine jumbled familiar plots, a royal reality show, Muppets, lines such as, "Time has flown like an emu," and even hand clapping for a bewitched fairy. The result is a lively evening of toe-tapping entertainment and giggles.
Three Fairies: Famecia Ward, Cali Moore, Iris Elton.Photo: Angel Wuellner.
Chesapeake Dalrymple's set is simple and effective, consisting of an off-kilter proscenium arch outlined with lights and an out-size story book whose turning pages keep us up with the action. The space upstage of the book is used for the multiple fast costume changes, as each actor doubles. Jean Brookman's costumes are great, especially those for the three fairies and K-Pig. I loved Rumpelstiltskin's shoes. The lighting by Isabella Byrd is also good, helping set the mood for the various scenes.
This is an exceptionally strong cast. Not only are they all very good singers, they're also good dancers. Jenna Lea Scott does a good job setting the tone of the piece in the opening number. Cali Moore is especially good on "Titania's Blues," while Iris Elton is terrific on "Clap Your Hands." As Aisha, Famecia Ward is excellent on her two duets with Hank, as she pretty much is on everything else she does.
Jason McCollum is a terrific singer and has about the best diction I've ever heard. His solo "Rumpelstiltskin" is great fun. Drew Aber is not only a good dancer, his solo "I Wanna Get Married, Momma, Even Though I'm a Pig," kept me chortling. Their duet, "Reality Show Wife," is great.
Music Director/pianist Rona Siddiqui has done a terrific job. Miss Siddiqui, with Ayesu Larty on bass and Mary Rodriguez on drums, sound great and the band never overpowers the singers. The group vocals all sound really good, especially the Finale and "Don't Look for Nothin' That Can't Be Found." Best of all, no mics! These singers don't need them and it's great to hear natural sound. On "Straw Into Gold," I particularly liked the back-up vocals and choreography.
Speaking of choreography, Director/Choreographer Jerry Dixon has done a terrific job with the staging. I especially liked his choreography for "Rumpelstiltskin," K-Pig's song and the fairies' trios. The entire show is staged with wit and touches of sly humor, for example K-Pig's transformation, the use of the Muppets and the unusual brush Meldina uses on her hair.
Enough with the superlatives. FUNKED UP FAIRY TALES is just plain fun from beginning to end. If you've never been to the Depot Theatre, this is a good show to start with. If you have, don't miss this one.
FUNKED UP FAIRY TALES runs through Aug. 25 tkts: 518-962-4449
FUNKED UP FAIRY TALES by Kirsten Childs
Produced by The Depot Theatre, Westport NY
Director/Choreographer: Jerry Dixon
Musical Director: Rona Siddiqui
Set: Chesapeake Dalrymple
Lighting: Isabella Byrd
Bass: Ayesu Lartey
Drums: Mary Rodriguez
CAST
K-Pig/Prince Hank: Drew Aber
Magikwanda/Meldina: Iris Elton
King Leo/Lord High Chamberlain: Jason McCollum
Faireetheeya?Aisha: Famecia Ward
Titania/Royal Tapestrymaker: Cali Moore
Mab/Queen Ersilia: Jenna Lea Scott