Flashdance: Lots of Dance but Little Flash
Reviewed by Patrick Langston
23
Oct
Posted:
October 23, 2013 Wednesday at 10:02 pm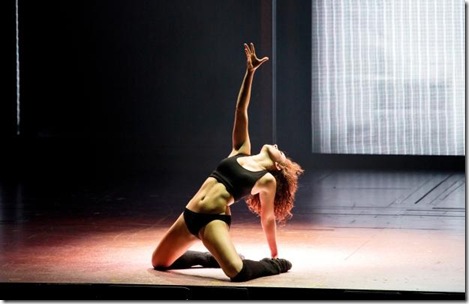 Handout  photo: Broadway Across America. Jillian Mueller as Alex in "Flashdance".
The show's big number is What a Feeling, but What Feeling? might better describe the touring version of Flashdance: The Musical which arrived in town Tuesday. A stage remake of the hit 1983 film Flashdance, the live version is written by Canadian Tom Hedley who created the original story and most of the screenplay, and Robert Cary. Music is by Robbie Roth who also wrote the lyrics with Cary. The film, a commercial success although generally mauled by the critics, catapulted Jennifer Beals in the main role of Alex from obscurity to stardom.
Hedley hopes to take his stage version – it's not the one that played in England a few years ago – to Broadway after touring it for the next several months. Unfortunately, while there's ample dance there's little flash, at least in this production. Granted, the company was operating at a disadvantage because a badly balanced sound system left performers overwhelmed by the orchestra (Nicholas Williams conducts) and rendered their voices unpleasantly reedy…….read more…
http://www.ottawacitizen.com/entertainment/movie-guide/Review+Lots+dance+little+flash+this+remake/9073433/story.html