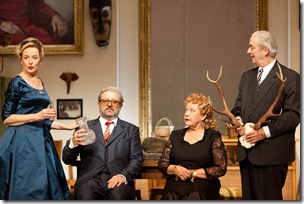 Guest reviewer Martin Morrow. (Globe and Mail, CBC)
Photo: Simon Halström.  Une île flottante, produced by Theater Basel and Théâtre Vidy-Lausanne. Directed by Christoph Marthaler. Adapted from La Poudre aux yeux by Eugène Labiche
  Montreal's Festival TransAmériques, that showcase of the daring and the avant garde, opened its 10th edition last week with a classic French farce.
But wait for it: this was a French farce as deconstructed by Christoph Marthaler, the celebrated Swiss director who turned the Broadway musical on its ear a few years ago with his Meine Faire Dame, ein Sprachlabor – a bizarre riff on Lerner and Loewe's My Fair Lady, set in a language lab. So his new touring production, Une île flottante/Das Weisse vom Ei (Floating Island/Egg White), which kicked off the FTA at Place des Arts, is no traditional slice of boulevard theatre – although, like the best farces, it's uproariously funny.
When the curtain went up on the vast stage of the Place des Arts' Théâtre Jean Duceppe, the audience was greeted with a cluttered bourgeois drawing room, characters in formal wear, and the opening dialogue of Eugène Labiche's 1861 comedy, La Poudre aux yeux. Only that dialogue was spoken by the inert actors in a slow, ponderous style, punctuated with long pauses, while a clock chimed audibly. It was as if the farce, that theatrical concoction of speed and froth, had been re-imagined by Samuel Beckett and staged by Robert Wilson. What a great joke.
And things only got crazier.
Labiche's play is, in the words of Harold Pinter, a "gentle satire" of bourgeois pretensions. When the modestly middle-class Malingears discover that their daughter, Emmeline, is being wooed by young Frédéric Ratinois, they make outlandish efforts to impress his family. The Ratinoises, intimidated, try to outdo them. Marthaler has decided to add some cultural tension, by making the Malingears francophones while the Ratinois clan speak German. In what seems to be a spoof of gender-blind casting, the families' young female servants are played by a tall, lugubrious British actor (Graham Forbes Valentine) who is taken to spouting vintage English nonsense, such as Lewis Carroll's "Jabberwocky."
The costumes, props and musical selections suggest the 1960s or '70s which, coupled with Marthaler's many surreal touches, reminded me of Luis Bunuel's classic 1972 black comedy The Discreet Charm of the Bourgeoisie. Only this is more like the raucous absurdity of the bourgeoisie.
Before we know it, the oddities begin piling up. Monsieur Malingear (Marc Bodnar) extracts a cockroach from his tea. Frédéric (Raphael Clamer) shows up to see Emmeline, sporting a smarmy smile, a permanent crick in the neck and shoulders laden with dandruff – which Valentine's "maid" obligingly dusts off for him. Emmeline (Carina Braunschmidt) goes to play her piano, which is actually a harp, and then she only mimes playing it. Characters miss their entrance cues, or break into coughing fits, while Valentine controls the show's idiosyncratic music and sound effects with a remote control.
Marthaler continues to roughly follow the plot of the Labiche play, until it finally collapses into slapstick anarchy with the dinner party hosted by the Ratinoises. There are so many hilarious sight gags and bits of business, involving broken furniture, obstinate radios, snoring, flatulence, spontaneous singalongs, and a recurring theme of bleeding from the mouth and nose, that it's almost overwhelming.
This is more than just a wild parody of Labiche, however; Marthaler uses one of that playwright's favourite devices, the "a part" or aside, to indulge in surreal interludes that may be a dig at modern theatre as well. Emmeline at one point launches into a haunting recollection of a dream with Freudian undertones involving a burning tree – until she is interrupted by another character who declares her "a part" has gone on too long. And a woman named Friedelind (Catriona Guggenbuhl), who claims to be stuck in time, drifts slowly through the action like an escapee from one of the late Oliver Sacks's books.
The physical comedy is delicious. In the opening scene, Bodnar's distinguished-looking Malingear speaks in a dead tone but mugs so outrageously that his facial expressions can be seen from the back of the auditorium. A favourite Marthaler actor, he later gets a string of funny moments that culminate with him hopelessly stuck in a broken chair, his trousers around his ankles.
Braunschmidt's delightful Emmeline, with her high-rise hairdo of cascading ringlets and her overbite, is a walking cartoon. No less so Clamer, who delivers a wonderfully grotesque performance as her oily fiancé, shuffling about crookedly as if he were auditioning for Richard III and bleating Emmeline's name like a lovesick sheep.
Charlotte Clamens as Madame Malingear and Nikola Weisse as Madame Ratinois do amusing burlesques of bourgeois matrons, although their roles as the principal schemers in the Labiche play are less in evidence here. Guggenbuhl's catatonic Friedelind is sublimely silly, at one point smoking a pipe contemplatively inside an empty picture frame, like a living René Magritte painting. The pipe is another of the play's recurring props – Monsieur Ratinois' even proves to be edible.
The latter character is played by Ueli Jäggi, a master of comic frustration, who has a couple of inspired scenes involving attempts to plug in, and later find reception for, a radio. The radio gags are just part of Marthaler's continuous toying with sound, music and language. He provides an eccentric soundtrack that runs the gamut from Dvorak and Mozart to the Petula Clark hit "Downtown" and novelty songs. Church bells repeatedly clang at a teeth-rattling volume. At the dinner table, Ratinois launches into a long speech consisting only of meaningless sounds.
Anna Viebrock, Marthaler's long-time collaborator, has created an elaborate and spectacularly kitschy drawing-room set – offset by an elegant mirrored dining room glimpsed stage left, a touch of realism amid the blatant artifice of other elements in the design. Huge, mediocre family portraits share the walls with fine-art prints and exotic masks, while the room is stuffed with a hodgepodge of ornaments. Valentine's maid repeatedly brings in various stuffed animals to add to the clutter. The lighting is as idiosyncratic as everything else in the show, often shifting as Marthaler makes his actors freeze in absurd tableaux.
Parody aside, what is the point of it all? It could be that Marthaler is presenting a vision of the middle class reduced to a hollow shell of attitudes and rituals. Hashing out the production at a critics' panel held the day after opening night, Alexandre Cadieux of Le Devoir countered my Bunuel reference by saying he was reminded of another 1970s film – George A. Romero's Dawn of the Dead. That's the one in which zombies stumble about a suburban shopping mall. Certainly, the bleeding episodes and the taxidermy theme give Marthaler's show a morbid touch, and it's easy to imagine that we're watching Labiche enacted by a cast of the living dead.
The German title, Das Weisse vom Ei ("Egg White"), may also be a clue to the director's intention. In the program notes, actor Bodnar refers to the German belief that the yoke of the egg is all that counts and the rest is extraneous. Perhaps Marthaler is mocking – and revelling in – the extraneous matter that makes up middle-class life. But Bodnar also mentions that Marthaler is an excellent cook, and any cook knows that egg whites are used to make meringues – as in the "floating island" dessert alluded to in the French half of the title – and other frothy confections. Whether or not you choose to find any substance in it, Une île flottante/Das Weisse vom Ei is one spectacular "meringue" of a show – almost too rich, in fact. But then, as Labiche's bourgeois characters might assert, you can never be too rich.
(The Festival TransAmériques continues through June 8. Go to fta.ca/en/ for full details on this year's programming.)