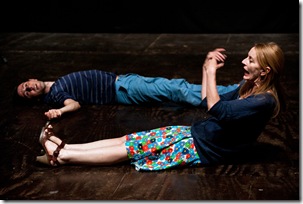 Photo: Reality by Silvia Gelli.  Guest reviewer Martin Morrow (Globe and Mail, CBC )
Produced by A.D.Written, directed and performed by Daria Deflorian and Antonio Tagliarini.  Presented by Festival TransAmériques
The morning after seeing Reality and Ce ne andiamo per non darvi altre preoccupazioni, two works by Italy's Daria Deflorian and Antonio Tagliarini at this year's Festival TransAmériques in Montreal, I bumped into the festival's artistic director, Martin Faucher, at the popular Pikolo espresso bar near Place des Arts.
As we waited for our coffees, we shared our similar thoughts on the two shows – how they were full of warmth and intimacy, and enticing in their apparent lack of artifice and their direct engagement with the audience. I called them post-theatre. Faucher, perhaps more accurately, referred to them as post-Pirandellian. After all, Deflorian and Tagliarini go beyond their great Italian forerunner, Luigi Pirandello, in turning the creative process into the play itself.
Reality begins with Deflorian and Tagliarini taking turns trying to act out the death by heart attack of an elderly woman on the street – each absurd attempt showing just how difficult it is to pin down that elusive quality, "realism." And the woman whose demise they are trying to imagine is Janina Turek, a prolific diarist from Krakow, Poland, who had a magnificent obsession with the real.
Upon her death in 2000, Turek left behind 748 notebooks in which, for nearly 60 years, she painstakingly recorded the raw data of her life: the menus of every meal she ate, the number of television programs she watched, the people she saw each day, etc. Along with this relentless inventory of the purely factual, she also sent herself more than 3,000 postcards in which she expressed her thoughts and feelings. Tagliarini and Deflorian use their 55-minute show to reflect on her fixation with documenting her life and to speculate on what happened between the lines.
Tellingly, Turek began her notebooks as a young wife in 1943, when her husband was arrested by the Gestapo and sent to Auschwitz. Perhaps, like Anne Frank, she saw some future historical value in recording the facts. But after he returned home, in 1945, she kept up her compulsion to turn her life into a mass of statistics – evidence of an individual existence progressing against the backdrop of history. It's a fascinating story, but equally fascinating is the way Deflorian and Tagliarini tell it.
The two actors, who also co-wrote and directed the piece (inspired by Polish journalist Mariusz Szczygiel's documentary on Turek), approach the material as if they were hashing it out in a rehearsal hall. As their initial "death scene" suggests, they show us the mechanics of building a play, while continually querying the subject and material, discussing it with themselves and with us. Although there is, of course, artifice here, the work feels so loose and organic it's as if it were being developed on the spot.
They take their method further in Ce ne andiamo per non darvi altre preoccupazioni, which is surely the most moving piece of theatre I've seen about the consequences of the global economic crisis. The title translates as "We decided to go because we don't want to be a burden to you" and the inspiration this time comes from a Pétros Márkaris crime novel, in which four female Greek pensioners decide to commit collective suicide in response to the accusation that their pensions are a strain on their debt-crippled country.
Deflorian and Tagliarini focus on re-creating and dramatizing the incident, this time bringing in two fellow actors as collaborators: Monica Piseddu and Valentino Villa. In the process, they also reflect on their own lives and how the failing economy has affected them and others they know. The piece becomes a cry for humanity against the tyranny of money, summed up in the defiant statement, "My economic problems are not my life."
Once again, the performers attempt to act out the experience of death, to project their imaginations into the minds of the dying. In a touching scene, Piseddu imagines herself as one of the pensioners, lying on her bed having overdosed on pills, and reaching out for the hand of the woman next to her. But the tragedy is not without comedy: one woman's last thoughts are a wish that she'd had an opportunity to dance the sirtaki – even if, as she sardonically points out, it's just a spurious folk dance invented for the film Zorba the Greek.
Both shows were performed on the big black-box stage of Montreal's Espace Go, with a bare minimum of props and costumes. For Reality, the stage is dotted with lighting equipment, giving a behind-the-scenes feel. In Ce ne andiamo… the actors end up muffling themselves in black and donning feminine wigs for a final visual stylization of the pensioners' suicide – the only full-on theatrical flourish in either play, and even then we watch them as they casually create the effect.
In retrospect, labelling Deflorian and Tagliarini's approach as "post-theatre" is too glib. Rather, this is theatre taken to its most honest, human level, theatre openly used as a tool in which to comprehend individual existence and champion it in the face of historical and socio-economic forces. It is, in every sense, essential theatre.
(The Festival TransAmériques continues through June 8. Go to fta.ca/en/ for details on the remaining programming.)