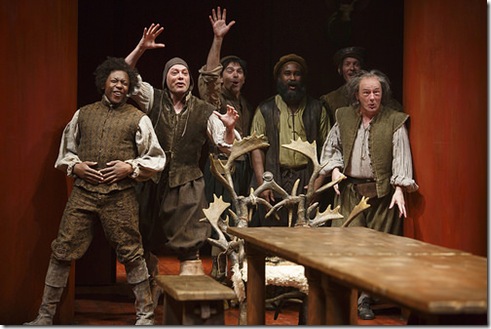 Photo: David Hou.
STRATFORD, Ont. — For modern-day audiences, the most contentious moments in The Taming Of The Shrew come at the end.
That's when Katherina, the fiery and rebellious spouse of the swaggering Petruchio, finally appears to be yielding to her husband's god-given authority.
By this time, she has been dragged kicking and screaming into marriage. She has then been subjected to emotional humiliation, to starvation, to sleep deprivation by her new spouse — and doesn't all this remind us of the classic interrogation techniques practised by today's CIA?
Defenders of Petruchio may argue that he's merely imposing tough love on a young woman whose out-of-bounds behaviour, furious temper and tendency towards violence have earned her the label of "Katherina the cursed" — that his determination to reduce her to a state of total submission is "done in reverend care of her." But is it really that simple? Not by a long shot when it comes to the Stratford Festival's astonishing new production.
Two of Shakespeare's plays are particularly troublesome to modern audiences. One is The Merchant Of Venice because of its portrayal of the Jewish money-lender, Shylock.
The other is The Taming Of The Shrew, which has Katherina bringing the play to its close with a speech that, even back in the late 16th Century, must have had some women grinding their teeth.
Those words remain in this latest Stratford revival. Katherina, now apparently tamed, is subjecting her younger sister Bianca, to words of advice on the occasion of the latter's marriage: "Thy husband is thy lord . . . thy keeper . . . thy sovereign . . . ." They still have a shock effect — there were gasps throughout the Festival Theatre at the performance I attended — but there's something else happening here as well. There's something opaque, something enigmatic about Katherina at this moment. It's almost as though the real woman is quietly standing by watching her lesser self speak the obligatory words of submission.
Which brings us to the performance of Deborah Hay. It may well be time to declare this actress one of Canadian theatre's national treasures. Last year she was back at the Shaw Festival — the institution that earlier nurtured her artistry — to deliver a knock-out performance as Sally Bowles in Cabaret. This season, she has returned to Stratford to find complexity in the character of Katherina in The Taming Of The Shrew.
She has managed this without damaging the play's farcical elements. Hay comes to this play with solid credentials in both physical and verbal comedy — and those early confrontations between her and Ben Carlson's irrepressible Petruchio have the kind of robust spontaneity that serves the play's need to display the battle of the sexes as some kind of spectator sport. Or as critic Anthony Burgess once observed, Shrew has "a good playhouse reek about it."
On the other hand, when this Kate gets Petruchio in a leg lock during one monumental struggle for supremacy, you have this feeling that she isn't kidding. Even when director Chris Abraham's lively production is shamelessly playing to the peanut gallery with the physical comedy, there's the sense of something else going on here. And again, our attention is drawn to Deborah Hay's portrayal. Anger is the expected ingredient in this characterization: to say that Hay's Katherina displays a short fuse would be something of an understatement. Yet, her approach to the character offers more than ferocious comic relief: this is also a troubled young woman driven to dangerous despair as she rebels against the environment in which she is forced to live.
There's also an undeniable intelligence at play here, and it comes to the fore on the road to Padua when Petruchio plays infuriating mind games with his wife over whether the sun or moon is shining down on them. He's mischievously asserting his authority here: each time he changes his mind over whether it is day or night, she is expected to comply and follow suit. The Katherina of Deborah Hay does respond to her husband's demands — or she seems to. Yes, the sun is shining — but no, it's really the moon. The game goes on, but suddenly, in the production's most powerful moment, we understand what's really happening. Katherina is at the end of her tether but she's not conceding defeat when — in a striking outburst signalling, not capitulation, but exasperation — she makes clear that she's not so much agreeing with her playful husband as indulging his whims. In no way can we read this as a speech of submission. The underlying message is clear: she has his measure.
Can Petruchio really claim that he has won the field? Perhaps superficially — but only superficially. Who has really gained the upper hand here? Who has really been brought to heel? The force of this Katherina's personality remains formidable. For her, knowledge has become power.
In this production, the odds have been evened to such a degree that the very title of the play starts seeming capricious. But none of this would be happening without Hay's success in giving the character of Katherina an unexpected shape, texture and intellectual weight.
It wouldn't be happening either without the nimble counterpoint provided by Ben Carlson's Petruchio. There's a combination of scruffy charm and macho swagger here, yet there's also a sense of a masculinity being stretched to the point of parody. Thanks to designer Julie Fox, Petruchio's Veronese home becomes an hilarious symbol of macho overstatement with a chandelier which appears to consist of the antlers of dead beasts and with chair backs also made from antlers. And when this Petruchio shows up for his wedding in absurd attire, Fox provides the final garnish in providing him a grotesque phallic accoutrement.
The chemistry between Carlson and Hay is palpable, and their amusing dialogue exchanges are a quicksilver delight. Yet, in some ways, this Petruchio remains a cipher. Yes he can play the disarming jester with aplomb. But there's an undeniable streak of cruelty in those mind games — he's not just making merry. And in directing this play, Chris Abraham provides some moments of shocking brutality involving Petruchio's servants. It's almost as though we've been jolted momentarily into a harsher vision for this play — and it doesn't always gel.
Meanwhile, we're also getting solid supporting performances from Peter Hutt, appropriately anxious as Katherina's long-suffering father; from Brian Tree, raspy in voice and temperament as Petruchio's manservant, Grumio; from Mike Shara, stylish and amusing as Hortensio, suitor to Katherina's sister, Bianca. Sarah Afful, a pleasing actress, has the misfortune of being saddled with the role of Bianca; she tries — but what an awful drip this character really is.
Abraham has decided to retain the play's dispensable prologue involving a drunken tinker named Christopher Sly who is duped into believing he's an amnesiac nobleman for whom of a troupe of players is performing a play about the taming of a shrew. Perhaps inspired by director Michael Bogdanov's controversial production for the Royal Shakespeare Company, Abraham offers Sly as a befuddled audience member who staggers on stage and starts destroying props. Ben Carlson, who will also end up as our Petruchio, is less destructive than the rampaging Sly of Jonathan Pryce in the RSC production — he doesn't demolish the entire set — and he is mildly amusing. But the sequence remains a tiresome and unnecessary appendage.
(The Taming Of The Shrew continues to Oct. 10. Ticket information at 1 800 567 1600 or stratfordfestival.ca)