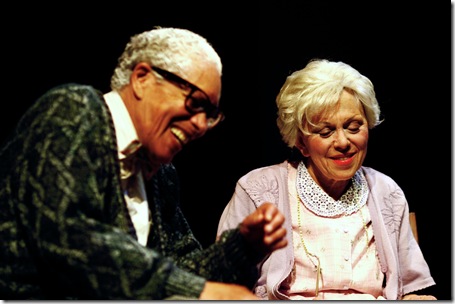 Walter Borden as Hoke & Nicola Lipman as Miss Daisy .  Photo: 1000 Islands Playhouse
The 1000 Islands Playhouse has opened its season in the Springer Theatre with a solid production of the Pulitzer Prize-winning play, "Driving Miss Daisy" by Alfred Uhry.   "Driving Miss Daisy" begins in 1948 and spans 25 years in the lives of Daisy Werthan, a feisty Jewish widow, her son Boolie, and Hoke, her new African-American chauffeur hired by her son.  It's a play about ageing, tolerance, understanding, friendship and ultimately love.  Daisy's relationship with Hoke begins when Boolie has to deal with the universal dilemma of what to do about an elderly relative who shouldn't drive.  A series of fairly brief scenes, separated by varying lengths of time, follow this evolving relationship over the course of the twenty-five years. "Driving Miss Daisy" balances sadness with humor and Daisy's anger at ageing with Hoke's infinite patience and capacity to listen.
The three actors who make up the cast are well-matched.  Brian Linds does a nice job as Boolie.  It's evident that he loves his mother, in spite of his frustration trying to deal with her fierce desire to remain independent.
Nicola Lipman, who was powerful last season as Grandma in "No Great Mischief," is equally strong as Miss Daisy.  Walter Borden as Hoke matches her strength.  He lets us gradually see the complete man under his initial veneer.  They have great chemistry together and are both adept at subtle changes in body language as they age.  Miss Lipman's southern accent occasionally slips, but maybe only an American would notice.  The scenes that stood out for me were the reading lesson, Christmas and the almost unbearably poignant final scene.
This is a first-rate physical production.  Jung-Hye Kim has designed an excellent set enclosed by three off-kilter white frames and back-dropped by a misty view of the city.  The patterned floor descends in three shallow steps, perfect for the driving scenes.  There's also a small area down left for Boolie's office.  The actors do the minimal set changes.
Tim Fort's lighting is effective and Sean Mulcahy's costumes are very good.  I especially liked Boolie's Christmas sweater.  Special kudos to Anne May for Daisy's excellent wig.  Adam Harendorf's sound is good and the music choices, whether his or the director's, are excellent.
Director Ashlie Corcoran has done a fine job of staging and directing this delicate piece.  The driving scenes are especially well-staged.  She's also managed to highlight the humor inherent in the relationship of this odd couple.  She has given the play a flow so that it never seems episodic and allows us to accept its movement through time.
"Driving Miss Daisy" examines various kinds of prejudice with gentle humor. To quote Director Corcoran, "It also looks at the struggle to retain dignity in one's old age," although I get the feeling if anyone referred to "golden years" in front of these two, they'd get a skeptical look.  For anyone who has dealt with the ageing of a parent or grandparent, "Driving Miss Daisy" can be a difficult play to watch.  However, its truthfulness can only help us to understand the process.  This is a good production of a funny, moving and very human play.
"Driving Miss Daisy" at 1000 Islands Playhouse through June 14            Tkts:1-866-382-7020
"Driving Miss Daisy" by Alfred Uhry  Produced by 1000 Islands Playhouse in association with Western Canada Theatre, Kamloops, B.C.
Creative Team
Director: Ashlie Corcoran
Set: Jung-Hye Kim
Costumes: Sean Mulcahy
Lighting:
Tim Fort
Sound: Adam Harendorf
Cast
Daisy Werthan: Nicola Lipman
Hoke Colburn:
Walter Borden
Boolie Werthan: Brian Linds