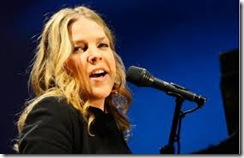 Photo from The Ottawa Citizen. Diana Krall at the NAC
A fine jazz pianist and singer with terrific timing and a great backup quintet. Isn't that enough for a first-class concert?
Apparently, Diana Krall's handlers do not think so. Rather than trusting their star, they clutter the show with a constant backdrop of irrelevant, distracting and often ugly visuals. Old movies are fine in their place, but when the sense of relief at the sight of a plain red curtain during the gaps between them is overwhelming, the clear indication is that this is not their place.
The other disappointment in the presentation is Krall's somewhat awkward and weak patter between numbers. At one point on Sunday night, she said, "I know, shut up and sing." Pity that she didn't take her own advice sooner because there is no question that she is at her best when singing and playing.
The highlight of the show for me was her rendition of Sit Right Down and Write Myself a Letter. This was a reminder of the simple and intimate concert she gave in the Studio Theatre during her first appearance at the National Arts Centre.
The current Glad Rag Doll tour, which features jazz standards of 80 and 90 years ago, is being touted as Krall's return to her musical roots. Terrific. So let her return without distracting over production. The quality of her music and the excellent musicianship of her quintet definitely doesn't need this kind of "help."