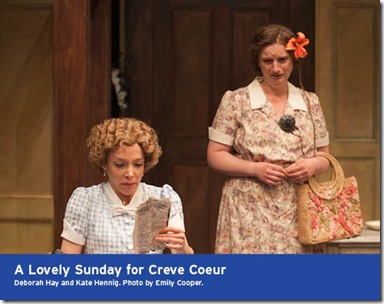 Photo: Emily Cooper. Featuring  Deborah Hay and Kate Manning.
NIAGARA-ON-THE-LAKE, Ont. — This is the summer when Shaw Festival actress Deborah Hay can do wrong.
She's been in command of the flagship Festival Theatre stage since April with her brilliant performance as Sally Bowles in Cabaret. And now, she's providing some sublime moments in the festival's problematic lunch-hour production of Tennessee Williams's neglected one-act play, A Lovely Sunday For Creve Coeur.
The setting is St. Louis, a city that looms large and traumatically in the playwright's personal and creative life, and we first meet Dorothea, the character played by Hay, doing calisthenics in the living room. She is another of Williams's emotionally maimed heroines — not as tragedy-bound as Blanche Dubois, but still vulnerable.
As she does her exercises on this lovely June morning, she's brimming over with optimism. She's convinced herself that the principal of the school where she teaches is about to propose to her. Meanwhile her no-nonsense roommate Bodey (a superb Kate Hennig) is in the kitchen, busily making devilled eggs for a picnic. Bodey has a different agenda in place: she sees Dorothea as the ideal mate for her beer-swilling twin brother, Buddy. Furthermore, Bodey has just learned something that Dorothea doesn't yet know — something that will destroy her friend's dreams.
The play, written late in Williams' life, doesn't really mesh. The playwright, as was his custom in that phase of his career, couldn't stop tinkering anxiously with his script, and he ended up defeated by his uneasy juxtaposition of comedy and seriousness.
But the Shaw Festival's revival, beautifully designed by Cameron Porteous, provides one of those occasions where production values rescue and elevate much of the material.
Director Blair Williams has shown great sensitivity to emotional texture and the two most confidently drawn characters. And he ensures that the production's most affecting moments come from the gentle, legitimately amusing interplay between Hay's fragile, self-deceiving Dorothea and Kate Hennig's sturdy, clear-sighted Bodey.
Hennig, an actress adept at conveying solid dependability (remember her in Billy Elliott?) couldn't be better in this role. As for Deborah Hay's fluttery, emotionally endangered Dorothea, she is both loveable and heartbreaking. But her heartbreak is not total. In a personal universe full of disappointments, she has an innate buoyancy that can rescue her. Dorothea may be a minor Tennessee Williams heroine, but thanks to Hay, she's an endearing one. She may be made for disappointment, but she'll keep bouncing back.
Significantly, a play that has a lot to say about men never brings any of them on stage. We just hear about them. Instead Williams provides acting opportunities for a quartette of females, and it's unfortunately that only half of his dramatic recipe really works.
The more one thinks about this play, the more convinced one becomes that it would have worked beautifully as a two-hander featuring Dorothea and Bodie.
To be sure, amusingly snobbish Kaylee Harwood is suitably exasperating as a meddlesome school colleague and leaves her mark on the proceedings. But the character still seems overdone, an unnecessary addendum who's been thrown into the mix to provide some funny complications. However, Harwood is at least tolerable.
The same cannot be said for Julain Molnar struggling with the unplayable role of a mentally distressed neighbour named Miss Gluck. Everything in the script points to Miss Gluck being a comic figure — and she's not. And this production has no idea how to deal with her presence in this play. Every time she collapses into one of her melt-downs, you want her to get off the stage — and Molnar isn't to blame for that.
So we arrive at the bottom line: Deb Hay and Kate Hennig are the two shining lights here and the reason Creve Coeur is worth a visit.
(A Lovely Sunday For Creve Coeur continues to Oct. 11, Ticket information at 1 800 511 7429 or shawfest.com)