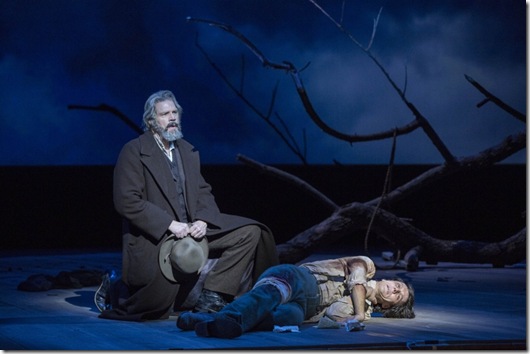 Photo: Gretien Helene. The actors are Rod Gilfry and Alexander Lewis.
Crossing, twenty-five year old Matthew Aucoin's third opera, was commissioned by Cambridge's American Repertory Theatre (A.R.T.) to commemorate the 150th anniversary of the US Civil War. Aucoin's opera is part of the Civil War Project, a multiple year partnership between professional theatres and universities whose purpose is to produce art works and support historical research. Crossing marks the A.R.T.'s fourth undertaking related to the project. Included were a sci-fi musical about a Union soldier, a devised piece dealing with a fugitive slave created by and for the A.R.T. Institute, and a new play by Suzan-Lorie Parks featuring a slave who fought for the Confederacy.
The multi-talented Aucoin, who has already made a reputation for himself as a composer, lyricist, and conductor, based his opera on Walt Whitman's poetry and experience ministering to wounded Union soldiers. However, the work is more imaginative than factual, the story both sequential and disjointed.
Set in a gloomy, run-down building, which resembles a barn with cots more than a hospital, the opera depicts neglected, suffering soldiers, who seem to have been there for years living an inert life. No doctor attends them. Death hangs over the opera from the opening when a convulsive soldier is carried on, expires, is wrapped in sheets and carried out by two black soldiers who serve as orderlies. Only Whitman (baritone Rod Gilfry) offers solace, but from a weirdly messianic stance. Gilfry performs the complex, confused, and confusing Whitman believably. In makeup, he resembles a handsomer version of the original. His beautiful voice is an enormous pleasure to hear.
The arrival of the young, attractive John Wormley (Alexander Lewis) sets the plot in motion. In addition to being a melodious tenor, Lewis is an excellent actor whose Wormley is multifaceted. Although dressed in the Union blue uniform, Wormley is a Confederate deserter, terrified of being caught. In hopes of saving himself from punishment, Wormley flirts with Whitman. He induces the poet to write a letter for him, supposedly to his parents. But it is actually a code message to the Confederate army meant to guide them to the hospital to destroy it.
Freddie Stowers (bass baritone Davone Tines), a former slave, sings a long aria, which has elements of a spiritual. He relates his painful life, changed by a vision of a dystopian future whose bombed out city, airplanes, and explosions ironically releases him from fear. Tines' passionate and powerful rendition is one of the performance's highlights. This section, while beautiful, stands alone.
Wormley seduces the beguiled, but ambivalent Whitman and the two men sleep together in a particularly sexless scene in which the lights fade to black as they lie fully dressed hugging each other. In lieu of the Confederate army, a token woman (Jennifer Zetlan) arrives in a startling bright green, white, and pink dress – the only vivid color on the stage – carrying a bulletin to announce via an aria that the Union has won the war. The soldiers, with the exception of Wormley, prepare to depart, leaving the "hospital" to be torn down.
Suddenly, Wormley begins to humiliate Whitman in front of the men calling him a pervert, accusing him of using his status to seduce the young soldiers. He demands to know if Whitman is the devil since war is hell. Shaking, Whitman puts on his coat and leaves.
A powerful choral piece follows. The set is struck. Wormley lies on the ground alone next to a tree trunk, guilty for having betrayed his only friend. Another projection of a city destroyed by war is seen. As Wormley struggles with his agony Whitman reappears. Fog covers the projection which slowly dissolves. Whitman has come to atone and serve his ideal of universal love. Wormley confesses all to Whitman and asks his forgiveness before dying, his hand on Whitman's shoulder. Whitman embraces Wormley's dead body.
Although this moment would have been appropriate for the opera's ending, it was succeeded by a short dance and two choral pieces. This dance, like the others in the opera, was extraneous.
The chorus of eleven men – all with fine voices – added a great deal to the production. Unlike many opera choruses, they generated characters and mood. Mood is very important to the production as seen in set designer Tom Pye's muted colors and minimalist setting, which depicts a barren world, or even Wormley's view of hell. Director Diane Paulus' restrained blocking created a similar effect.
Opera with music and libretto by Matthew Aucoin
Directed by: Diane Paulus
Set, Tom Pye. Lighting, Jennifer Tipton. Costumes, David Zinn. Projections, Finn Ross. Choreography, Jill Johnson.
Cast
Walt Whitman ………. Rod Gilfrey
John Wormley ………. Alexander Lewis
Freddie Stowers ……… Davone Tines
Ensemble …………….. William Goforth, Frank Kelley, Michael Kelly, David Kravitz, Matthew
Patrick Morris, Miles Mykkanen, Daniel Neer, James Onstad, Edward Parks, Jorell Williams, Gregory Zavracky
Dancers ………………. Hiroki Ichinose, Jehbreal Jackson, Waldean Nelson, Jenna Pollack
With A Far Cry conducted by Matthew Aucoin. Presented by the American Repertory Theatre in association with Music-Theatre Group.
Played at: Citi Shubert from May 31 to June 6, 1915.