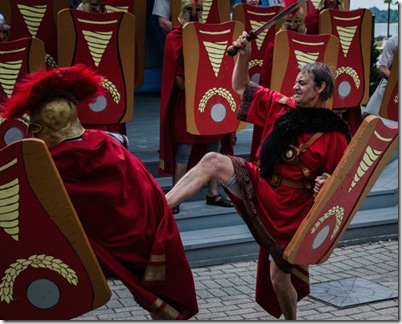 Photo by David Blake.  Richard Sheridan Willis as Julius Caesar. 
Julius Caesar by Shakespeare, directed by  Rona Waddington.
The St. Lawrence Shakespeare Festival has opened their season with a strong and creative production of "Julius Caesar."  Director Rona Waddington, with special permission from Actors Equity, has recruited 18 volunteers to play soldiers, senators, and citizens along with the 12 professional actors.  These volunteers do a fine job with the complex staging, as well as making some very nippy costume changes.
There are two real stand-outs in this generally strong cast.  Ash Knight as a wonderfully nuanced Brutus and Richard Sheridan Willis as the complex Caesar are both expert at handling the language.  My companion said for once she didn't have to translate in her head. Jesse Nerenberg's Cassius tends to be on a single note of anger till Act II, when we see more of his wiliness.  As Octavius Michael Man does a nice job, also doubling as the timid Cinna.
Mark Antony is well-played by Jonathan Purvis. Granted, Mr. Knight's delivery as Brutus is a tough act to follow, but he does a good job with the funeral oration, in spite of audible vocal tension.  Mr. Purvis is also responsible for the excellent fight direction and choreography.  There's even a Roman turtle formation in the final battle scene.
Melissa Morris makes a very good Portia and is also responsible for the first-rate music.  The choice to use Tyler Seguin, (obviously a master of circular breathing), on didgeridoo is just perfect.  I especially liked her arrangement for chorus, trumpet, and drum of the piece from the "Carmina Burana" that signals the end of intermission.
Alex Amini's wigs and costumes are very good and kudos to the people helping with the changes.  Miss Morris alone must have at least 27.  The set by Attila Clemann works well, especially the raised panel for the funeral procession.
Director Rona Waddington, aided by Mr. Purvis, has come up with excellent staging.  From the opening sequence complete with soldiers, drummers, and senators to the final battle it flows smoothly.  The stilt-walker is uncredited, but he's a fun addition.  I particularly liked the metal masks on poles during the night of sinister portents.  Miss Waddington has also helped her large cast develop characters whose humanity we understand.  A wonderful touch is the addition of Caesar's ghost observing throughout Act II. Even the town clock cooperated by chiming during Caesar's funeral.
Time prevents me from mentioning everyone, but as far as I'm concerned the experiment with the volunteers is a success.  This is a production that works.
St. Lawrence Shakespeare Festival "Julius Caesar" in rep with "Much Ado About Nothing"
Through August 20                            Tkts: 613-925-5788
CAST
Lucius – Audrey Clairman
Artemidorus – Dejah Dixon-Green
Calpurnia – Sarah English
Brutus – Ash Knight
Murellus, Soothsayer – Gabrielle Lazarovitz
Cinna, Octavius – Michael Man
Portia – Melissa Morris
Cassius – Jesse Nerenberg
Casca, Messala – Trevor Pease
Pompey, Mark Antony – Jonathan Purvis
Ligarius, Titinius – Tyler Seguin
Julius Caesar – Richard Sheridan Willis
SOLDIERS, SENATORS, AND CITIZENS
Philip BuryBill Chambers
Daniel CookKatrish Evoy
Harold HessBarbara Kobolak
Tom KobolakSherry Leeder
Reed McDonaldNolan Molson
Gerry MorandWill Raby
Alec RicardsonDaniel Richardson
Bill RobertsRiley Vallom
Tom Van DusenSteve Wormington
CREATIVE TEAM
Director – Rona Waddington
Set – Attila Clemann
Costumes – Alex Amini
Music Director & Composer – Melissa Morris
Fight Director & Choreographer – Jonathan Purvis