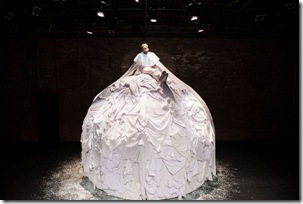 Photo: Stephen Wild.
"Das Ding (The Thing)" by Philippe Lohle and translated from the German by Birgit Schreyer Duarte is billed as "a sharp-witted social comedy." I can only think that something got lost in translation as I found precious little comedy in the evening. This production originated in Toronto and moved intact to the Firehall with only one cast change. Luckily the technical production, which is terrific, moved too. "Das Ding" purports to span today's globalized world by following the journey of a cotton fiber. I got this from the press release – not from the play.
It opens with a petulant King Manoel I of Portugal, (Qasim Khan), seated on a giant white cotton ball speaking with Magellan, (Naomi Wright). Magellan, after explaining his broken leg, requests backing for an expedition to sail west to find a route to the Indian Ocean. King Manoel refuses. The scene is mildly amusing, but the play goes downhill from there.
Next comes a series of short confusing episodes involving a couple, Katherine, (Kristin Colosimo), and Thomas, (Kristopher Bowman), Patrick, a photographer, (Philip Nozuka), various journalists, (Naomi Wright), Li and Wang, Chinese businessmen, (Khan and Bowman), and Fela and Siwa, (Nozuka and Wright). I know this only because I read the program. The five actors, who all seem accomplished, have been directed to play at break-neck speed, leaving me wondering what was going on.
Luckily the excellent designers save the day to some extent, as there's lots to watch, from Drew Facey's wonderfully imaginative set that morphs into various things to Jung-Hye Kim's unusual but effective costumes. Graeme Thomson and Nick Andison have come up with tricky lighting and John Gzowski's sound is a great addition. The many projections designed by Denyse Karn of maps, phrases, and very helpful scene titles are terrific.
Director Ashlie Corcoran has done a wonderful job with imaginative staging, but the script is lost in speed and confusion. At 80 minutes with no intermission I finally gave up and let the dialogue was over me as I watched the excellent effects and cavorting. As I once said of a musical, I went out humming the set. To quote a comment I heard in the parking lot, "Good thing it was only one Act." I have to concur.
"Das Ding (The Thing)" by Philipp Lohle, translated by Birgit Schreyer Duarte
Firehall, 1000 Islands Playhouse, Gananoque through Sept. 25 Tkts: 613-382-7020
CAST
Kristopher Bowman – Thomas/Wang
Krista Colosimo – Katherine
Qasim Hhan – King Manoel I/Li/Guy
Philip Nozuka – Fela/Patrick
Naomi Wright – Journalists/Magellan/Siwa
CREATIVE TEAM
Director – Ashlie Corcoran
Set – Drew Facey
Costumes – Jung-Hye Kim
Lightimng – Nick Andison
Lighting – Graeme Thomsopn
Sound – John Gzowski
Projections – Denyse Karn