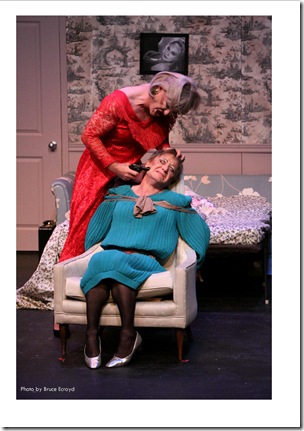 John Collins and Barry Daley. Photo by Bruce Ecroyd
Drag makes excellent theatre! Take for instance the ground breaking Hosanna (Richard Monette performed the title role in Tremblay's play, in English, at Stratford many years ago), or La Duchesse de Langeais, that heartbreaking campy monologue by Michel Tremblay interpreted by that great actor Claude Gai who made the role his own. More recently there was that French production of the Changing Room at the NAC which delved more closely into the various possibilities of Drag identities which was extremely revealing as "real" drags and "phony" drags cohabited the stage and the audience was left totally perplexed t trying to figure it all out.
These performances are, after all, about the essence of theatre: dressing up and assuming various roles, even various identities while hiding other identities. David Blue, the playwright has clearly been reading a lot of theatre based on campy drag performance because his text is full of references to so many other similar plays and works by gay writers such as Tennessee Williams as well as female models of female impersonators, that this work almost becomes a compilation of all the stereotypical utterances one could imagine, especially in Act I. It therefore needs a lot of pairing down. I think this play could lose at least 20 minutes and still be just as effective, in fact it might even be stronger. Listening to Miranda Rights (an extraordinary performance by Barry Daley) extolling the virtues of Bette Davis and other icons of female impersonators has something almost pathetic about it when we see what a frump Mme Miranda has really become.
However there is nothing pathetic about Miranda. Peggy Laverty's wigs are smashing while, strangely enough, her costumes looked messy because they did not fit Miranda/ Brian properly, and as for those black stockings and awkward gold shoes, gad! . They no doubt suggested what a second rate showgirl Miranda really was in her tortured past but for me, the poor taste did not belong to the character, it belonged to the costume designer.
The first act goes all out in a rage of campy hysteria emphasized by Grant Dolan's colourful set strewn with costumes, wigs, sexy furniture and all kinds of wild things. It might have seemed a bit strange because the hype leaves the character Miranda no place to go, except down. But actually, director Klaas Van Weringh's strategy worked very well because his Drag star had to calm down during the rest of the play, for the situation to make any sense. And she did, once she was asked to just tell the truth. A certain John, a writer/journalist (played by misleadingly calm John Collins), has come to interview Miranda to find out the true story behind those murders she committed many years ago. She has just come out of prison and the writer has a particular reason for wanting to get closer to this woman. The play slowly becomes a mystery that resolves itself with an extremely exciting climax that ties everything up…almost. What is less clear however, and purposely so, is Miranda herself who has perhaps lead us all astray by taking advantage of her ambivalent status, moving through a whole gallery of multiple personalities that take turns coming to the fore ground. Is she a pathetic old lady? Is she a murderous psychopath? Take a guess!!
What begins then as a rather irritatingly overloaded campy text, eventually becomes a fun event where the lead character, well handled by the energetic and tireless Barry Daley plays us all. Not bad. We don't see plays of this kind in English very often in Ottawa and it is a shame. The Québécois seem to have a predilection for campy drama which is a solid part of their theatre history now. I think Anglophones, need to do some catching up.
Confessions of a Mad Drag Queen are over now but TOTOTOO Theatre is still around. Watch for its next show!
Confessions of a Mad Drag Queen
Written by David Blue
Directed by Klaas Van Weringh
With Barry Daley (Miranda Rights) and John Collins (John Morgan)
Set by Grant Dolan
Lighting by John Solman
Sound design by Ted Chartrand
Props by Stephen Liddiard
Makeup by Corey J. Stone
Costumes and wigs by Peggy Laverty
Played at the University of Ottawa, Academic Hall. August 21-24