Theatre in Otttawa and the Region
Reviewed by Jamie Portman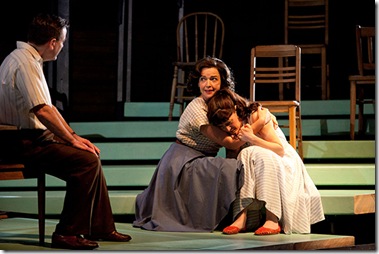 Photo by Luce Tremblay-Gaudette
The title of the play currently at the National Arts Centre is Innocence Lost.But the evening might more appropriately be called Promise Squandered.
The very subject matter is guaranteed to seize our attention, dealing as it does with one of the most shameful episodes in the history of Canadian criminal jurisprudence — the 1959 wrongful conviction of 14-year-old Southern Ontario schoolboy Steven Truscott for the rape and murder of a 12-year-old classmate, and his sentence to death by hanging.
More the pity then that this account of a shocking miscarriage of justice and of the 48-year battle to win acquittal for Truscott proves so hollow in execution. This co-production from NAC's English theatre and Montreal's Centaur Theatre is generally inert and bloodless in performance save for a few equally unfortunate moments of melodramatic excess.
06
Mar
Posted:
March 6, 2013 Wednesday at 5:24 pm
Reviewed by Rajka Stefanovska
The Walk explores the omnipresent problem tied to the trafficking of women sold into sex slavery. It is the story about the destiny of millions of young women, some of them mere children who are caught in the chains of lucrative business – an organized crime that involves all structures of society worldwide. Although a story that has been told numerous times (but then – which one is not!), it takes a different turn in playwright Catherine Cunningham-Huston and director Nathalie Fraser-Purdy's vision. During the Fringe festival, I belive, we witness the connection of art and real life, the attempt to merge theatre and action.
09
Jul
Posted:
July 9, 2012 Monday at 2:39 pm