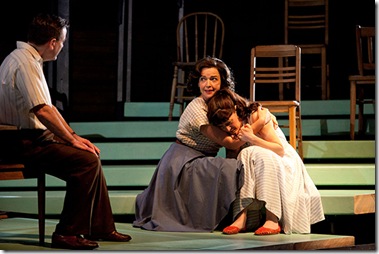 Photo by Luce Tremblay-Gaudette
The title of the play currently at the National Arts Centre is Innocence Lost.But the evening might more appropriately be called Promise Squandered.
The very subject matter is guaranteed to seize our attention, dealing as it does with one of the most shameful episodes in the history of Canadian criminal jurisprudence — the 1959 wrongful conviction of 14-year-old Southern Ontario schoolboy Steven Truscott for the rape and murder of a 12-year-old classmate, and his sentence to death by hanging.
More the pity then that this account of a shocking miscarriage of justice and of the 48-year battle to win acquittal for Truscott proves so hollow in execution. This co-production from NAC's English theatre and Montreal's Centaur Theatre is generally inert and bloodless in performance save for a few equally unfortunate moments of melodramatic excess.