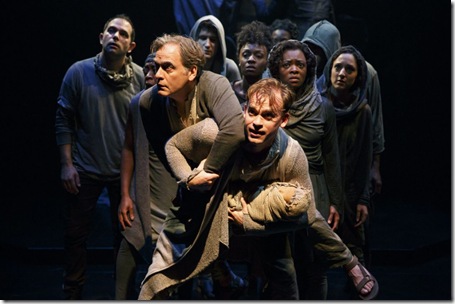 Photo: David Hou. The Aeneid, adapted by Olivier Kermeid.
STRATFORD, Ont. — It's the intimate moments that have the most profound  impact in The Stratford Festival's production of Quebec playwright Olivier Kemeid's The Aeneid .
We're dealing with the refugee crisis here. So we have this scene where a  mother, in anguish over the loss of her own child,  spots an infant  among her fellow fugitives  and picks him up — refusing to relinquish him to his father, Aeneas, the central figure in this ambitious retelling of Virgil's poem.
A sequence like this defines the terrible reality of the refugee experience. But ultimately it's the way it moves from the universal to the particular that gives it such   tragic intimacy. As the grieving mother, Lanise Antoine Shelley is lacerating in her display of a ravaged soul. But then the intervention of the woman's husband, portrayed with compelling power by Rodrigo Beilfuss, again pierces the heart: please, he asks Aeneas, allow this poor woman to pretend at least for a time that this is her own child she's holding.