Summer Theatre 2015
Reviewed by Iris Winston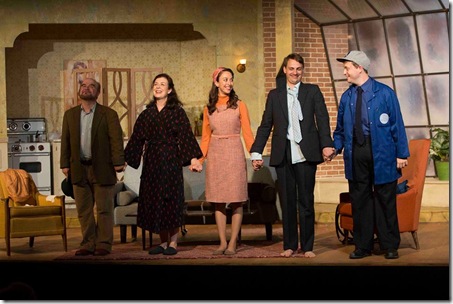 Jean-Denis Labelle photo.
The heavy breathing that is a key feature of Neil Simon's Barefoot in the Park has nothing to do with sex and everything to do with trudging up many flights of stairs to a fifth-floor walk-up apartment in New York. And that minor inconvenience is just one of the many problems with the nest that enchanted the impulsive and newly-wed Corie Bratter. Perhaps, if her lawyer husband had seen the cramped apartment before she rented it, he might have noticed the hole in the skylight, the minute bedroom, the faulty radiator or the excessive rent.
When it premiered on Broadway in 1963, Barefoot in the Park was an instant hit, running for more than 1,500 performances — a record run for a non-musical play. Later a successful movie starring Robert Redford and Jane Fonda, the comedy — written as a tribute to Simon's first wife — focuses on the attractions between opposites and the steep learning curve in the early days of any marriage—50 years ago or today.
13
Jul
Posted:
July 13, 2015 Monday at 8:43 pm