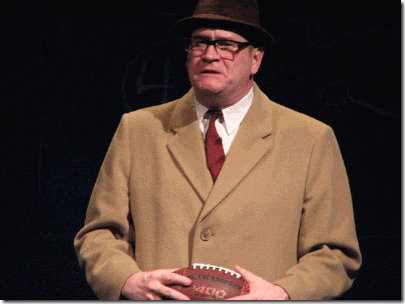 John Lenartz as Vince Lombardi. Photo-Depot Theatre
The Depot Theatre is closing out their 35th season with a first-rate production of LOMBARDI – yes, CoachVince, THAT Lombardi. Written by Eric Simonson and based on the book "When Pride Still Mattered" by David Maraniss, the play deals with the man behind the myth. We learn not only of his philosophy, but also of his relationships with his wife Marie and three of his players, Dave Robinson, Jim Taylor and Paul Horning. Set largely in 1965, it includes flashbacks to 1958, 1959 and 1964. It's structured around a series of interviews with a reporter.
Director Chris Clavelli's simple set of two armchairs and a table backed by a large green-board with the diagram of a play and a cocktail cabinet stage right works very well for the production. The action is enhanced by Isabella Byrd's excellent lighting that helps focus the changes of time and place. As always, Jean Brookman's costumes are good, especially Marie's final dress.