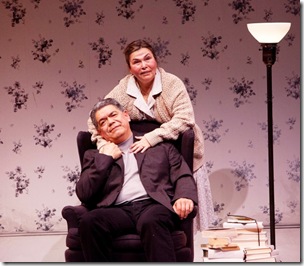 Photo: Magnetic North handout.
Hard to say when Margo Kane shines brightest in Michel Tremblay's warm memory play about his mother Nana.
Maybe it's when, wearing Nana's perennial outfit of kerchief, apron and sensible shoes, she imitates an ill-coordinated 15-year old ballet dancer to accompany one of the endless and endlessly funny stories Nana tells to her affectionately long-suffering son, played by Lorne Cardinal.
Perhaps it's when Nana imagines disguising herself in a gas mask to avoid embarrassment at church after her son has, in her overactive mind, committed a heinous crime.