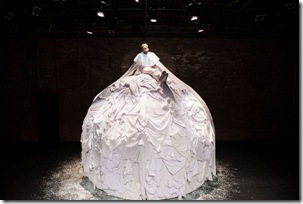 Photo: Stephen Wild.
"Das Ding (The Thing)" by Philippe Lohle and translated from the German by Birgit Schreyer Duarte is billed as "a sharp-witted social comedy." I can only think that something got lost in translation as I found precious little comedy in the evening. This production originated in Toronto and moved intact to the Firehall with only one cast change. Luckily the technical production, which is terrific, moved too. "Das Ding" purports to span today's globalized world by following the journey of a cotton fiber. I got this from the press release – not from the play.
It opens with a petulant King Manoel I of Portugal, (Qasim Khan), seated on a giant white cotton ball speaking with Magellan, (Naomi Wright). Magellan, after explaining his broken leg, requests backing for an expedition to sail west to find a route to the Indian Ocean. King Manoel refuses. The scene is mildly amusing, but the play goes downhill from there.