Student Reviews
Reviewed by Jeunes critiques
A student review by Brianna McFarlane who is in Yana Meerzon's theatre criticism class at Ottawa University
Dear Ottawa Little Theatre,
Congratulations on your 100th season! With an all-star line-up of remounted shows from all different decades, you show no signs of stopping. However, I have a tiny bone to pick with you. Often criticized for producing shows solely geared towards an… ahem…"elder" demographic, director John Collins' Deathtrap, written by Ira Levin, is no different. This production does not stray from the tried, tested, and true conventions that community theatre has become associated with, though, this is not to say that this necessarily negates a terrible performance: only a mediocre one, which, I think, is worse because it is forgettable. Your company is such a pillar in the Ottawa theatre scene that I honestly believe the OLT can afford to start pushing the boundaries a little further.
Deathtrap was written in 1978 and falls under the tricky genre, not seen or performed very often these days, known as a comedic thriller. The story focuses on the stuck-in-a-rut playwright Sydney Bruhl, played by Lawrence Evenchick, who, through a hilarious series of murderous plots, tries to get his hands on the new play, aptly named Deathtrap, written by his secretary slash lover Clifford Anderson, played by Dan DeMarbre. In the end, Clifford's script proves to be to die for…literally, and the piece finishes in a blackout leaving two characters, best left unnamed, on stage locked in a mortal combat and the audience left wondering whose hands Deathtrap will fall into next.
(more…)
22
Mar
Posted:
March 22, 2013 Friday at 9:07 am
Reviewed by Jeunes critiques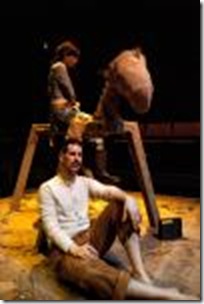 Photo. Barb Gray
Meaghan Flaherty is a student in Yana Meerzon's  Theatre criticism class at the University of Ottawa.
As playwright Jill Connell so eloquently puts, "This is the beginning of a big misunderstanding." HROSES: An Affront to Reason, written by Connell, certainly has the capability of being misunderstood by its audience. My feeling of perplexity upon leaving the Arts Court Theater however wasn't one that angered me. I left craving more – I wanted answers and explanations, but most of all I craved more of this beautiful yet simple story. Evolution Theater and Mi Casa Theater have proved with their new coproduction that though they may have difficulties spelling, they certainly know how to create thought provoking theater.
13
Mar
Posted:
March 13, 2013 Wednesday at 5:43 pm
Reviewed by Jeunes critiques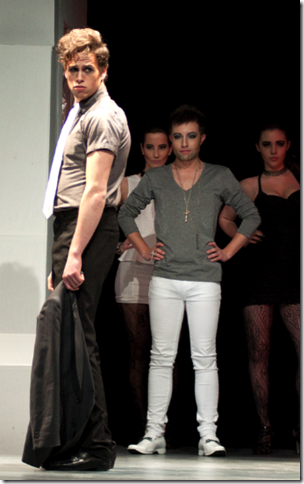 Photo.Justin Labelle
Carol Sinclair is a student in Yana Meerzon's theatre criticism course at the University of Ottawa.
Ekaterina Shestakova brings us to the catwalk to strut her final MFA production of Witold Gombrowicz's Princess Ivona. Academic Hall houses this world of cut throat fashion and destruction. The direction, performances and design for this production were all fierce.
In the court of King Ignatius and Queen Margret a strange girl, Ivona, is brought in and their son Prince Philip is immediately infatuated by her bizarre behavior. Her inability to conform to their strict social expectations drives everyone who interacts with her to different intensities of insanity and violence as secrets are revealed and the court crumbles.
07
Mar
Posted:
March 7, 2013 Thursday at 4:20 pm