Stratford Festival
Reviewed by Jamie Portman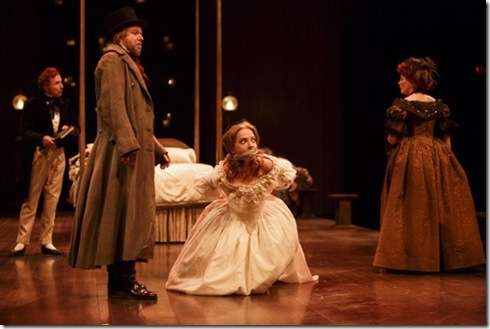 Photo: David Hou
STRATFORD, Ont. — There's a moment in the Stratford Festival's new production of Shakespeare's seldom-performed Pericles when actress Deborah Hay blows out the candles on a cake.
It's a simple moment, but Hay — in the role of Thaisa, the young woman who becomes the title character's doomed bride — gives it a softly luminous rapture that speaks volumes.
There's a later moment when Hay reappears as a young maiden named Marina. Shakespeare's melodramatic plot has placed her in a brothel where she is in imminent danger of losing her virtue if her keepers have their way. The latter include a gravel-voiced Randy Hughson revelling in his character's scrofulous awfulness, Brigit Wilson as a flame-wigged madam named Bawd and the always dependable Keith Dinicol as a fastidious fop named Pander. The scene becomes a comic set piece as we watch Hay's cunning Marina adroitly and amusingly preserve her maidenhood from the increasingly frustrated machinations of this scheming trio.
02
Jun
Posted:
June 2, 2015 Tuesday at 10:01 pm