Stratford Festival
Reviewed by Jamie Portman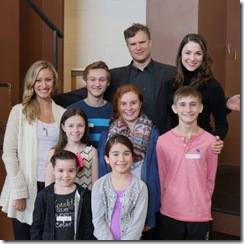 Photo. Courtesy of the Stratford Festival
STRATFORD, Ont. — Yes, it can have the texture of syrup. Yes, it is
historically questionable when it comes to the allegedly real-life
story it tells. And yes, in the character of Maria, the convent reject
who changes her world and the world of those around her through the power of song, we have a young heroine who is almost too good to be true. Yet, none of this seems to matter when The Sound Of Music receives as good a production as the one that took confident possession of the Stratford's Festival Theatre Tuesday night. No matter that Rodgers and Hammerstein's most beloved musical continues to be done to death — indeed Stratford's previous production was comparatively recent. No matter that it's by no means Rodgers and Hammerstein's best show — that honor probably belongs to the dark-hued Carousel, which is also  being mounted at the festival this summer. But this production benefits from Donna Feore's secure and imaginative direction, a strong visual component and some stellar performances.
Feore seems determined to find some fibre in the sugary confection that constitutes this musical. She wants to give the material more spine. American import Stephanie Rothenberg, who plays Maria, proves to be of prime importance in serving this need. On opening night you were a bit uncertain about Rothenberg at the beginning: her mannered and overly studied rendition of the title song lacked spontaneity and didn't really jell with the image of the idyllic young postulant, stealing a few heady moments of freedom in her beloved mountains before returning to the cloisters.
But by the time Maria arrives at the widowed Captain Von Trapp's home to take on the job of governess to his seven unruly children, Rothenberg has relaxed and is taking confident possession of her character. And with that delightfully staged moment when the militaristic-minded captain marches the youngsters on stage, and into the hearts of Maria and the audience, the show's virtues are firmly taking hold.
28
May
Posted:
May 28, 2015 Thursday at 10:53 am