Stratford Festival
Reviewed by Jamie Portman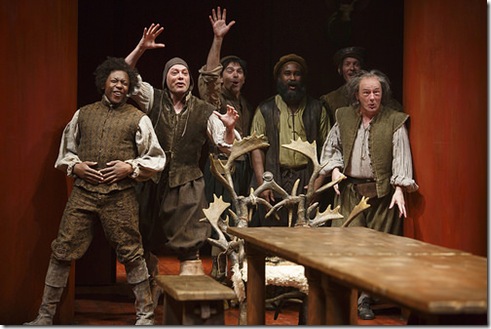 Photo: David Hou.
STRATFORD, Ont. — For modern-day audiences, the most contentious moments in The Taming Of The Shrew come at the end.
That's when Katherina, the fiery and rebellious spouse of the swaggering Petruchio, finally appears to be yielding to her husband's god-given authority.
By this time, she has been dragged kicking and screaming into marriage. She has then been subjected to emotional humiliation, to starvation, to sleep deprivation by her new spouse — and doesn't all this remind us of the classic interrogation techniques practised by today's CIA?
Defenders of Petruchio may argue that he's merely imposing tough love on a young woman whose out-of-bounds behaviour, furious temper and tendency towards violence have earned her the label of "Katherina the cursed" — that his determination to reduce her to a state of total submission is "done in reverend care of her." But is it really that simple? Not by a long shot when it comes to the Stratford Festival's astonishing new production.
14
Jul
Posted:
July 14, 2015 Tuesday at 12:35 pm