St Lawrence Shakespeare Festival
Reviewed by Connie Meng
A very good production of "Romeo and Juliet" is playing at the St. Lawrence Shakespeare Festival in Prescott.  Director Janet Irwin has set the play in the 1950s, perhaps the last decade in which marriage decisions were primarily made by parents, often in conflict with teen-agers' raging hormones.  This decision allows designer Alex Amini to costume the actors so they can move easily through the athletic staging.  By the way, the various knife fights staged by Jonathan Purvis are remarkably effective.  Her costumes for the Capulets, particularly Juliet, are especially good.
The simple set of two sheer white panels with a circular sheer panel center designed by Julie Bourbonnais is very atmospheric.  The transformation to the tomb and the gradual lighting of the single paper lantern work very well. The a cappella dirges by Melissa Morris are good, but Lady Capulet's snippet of "Blue Moon" seems out of place.
The cast is generally good, with just a couple of uneven performances.  Jonathan Gould is excellent as the Prince and also in his subtle guitar work.  Unfortunately Kathleen Veinotte gives an inconsistent performance as the Nurse, characterized off and on by a flat-footed caricature of a walk.  As Paris, Benjamin Sutherland gives us a realistically believable death scene.   (more…)
10
Aug
Posted:
August 10, 2015 Monday at 9:09 am
Reviewed by Patrick Langston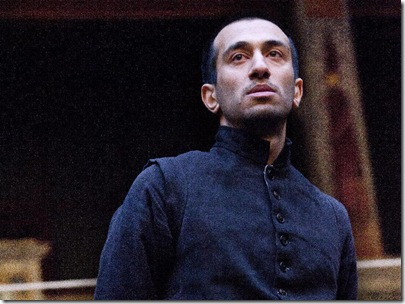 Photo:
If you blinked, then – like Hamlet trying to steel himself to action – you missed your chance.
On Saturday, Prescott's St. Lawrence Shakespeare Festival hosted Globe To Globe, the riveting international touring production of Hamlet by London, England-based Shakespeare's Globe theatre company. It was in town (and Canada) for two shows only before hitting the road again.
The company is touring Hamlet to every country in the world between now and 2016, the 400th anniversary of Shakespeare's death. The show also links to the 450th anniversary of the writer's birth this past April.
06
Aug
Posted:
August 6, 2014 Wednesday at 9:54 pm