Shaw Festival 2016
Reviewed by Jamie Portman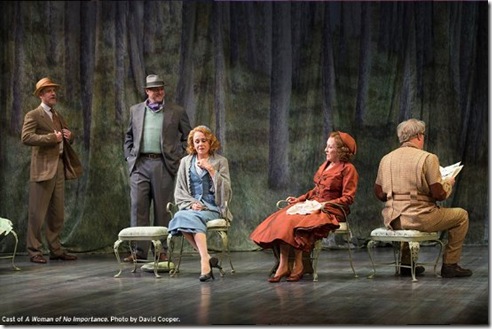 Photo: David Cooper. A Woman of No Importance.
It seemed welcome news when the Shaw Festival announced that it would be tackling Oscar Wilde's A Woman Of No Importance this season. One hoped that the festival would be redressing the  wrong done this play in a previous production in 2004. After all, this current revival would be in the capable hands of Eda Holmes, a director responsible for some of the finest moments in the festival's history.
How quickly can one's high expectations be dashed. The production now on view at the Festival Theatre seems intent on baring the play's weaknesses and diluting its strengths. It's hard to be believe that the same director who unveiled a brilliant production of Bernard Shaw's Mrs. Warren's Profession in May could follow up with such a mish-mash.
To be sure, A Woman Of No Importance has long been considered the slightest and most problematic of Wilde's plays. It begins with an extended upper-class gathering,  the sort of situation that allowed the playwright to indulge himself with barbed and witty epigrams about society. But it's a scene fraught with hazards — the most immediate of which is the challenge of keeping the endless talk, talk, talk from turning static.
13
Jul
Posted:
July 13, 2016 Wednesday at 2:33 pm
Reviewed by Jamie Portman
Mrs. Warren's Profession
Written by Bernard Shaw
Directed by Edna Holmes
NIAGARA-ON-THE-LAKE, Ont. — It's an explosive mother-daughter confrontation — and it's a lulu.
It happens near the end of the Shaw Festival's marvellous revival of Mrs. Warren's Profession, George Bernard Shaw's once-banned play about the economic benefits of brothel-keeping. On the one hand, you have feisty young Vivie Warren (Jennifer Dzialoszynski) coming to terms with the knowledge that she owes her   university education and her place in society to her mother's illicit earnings. In the other corner, there's Mrs. Warren (Nicole Underhay) defiant in the face of her daughter's scorn and scarcely able to comprehend that she's about to be shown the door by her ungrateful child.
It's a moment of high drama in an outstanding production that shows how pertinent many of the issues raised by this late Victorian play remain today. Director Eda Holmes underlines its continuing relevance through an audacious device. At the beginning we're in the kind of private men's club that still exists in today's London and is notorious for resisting change. The four males we encounter are clearly of the present — there may be an ancient gramophone in the corner of the panelled drawing room (designed by Patrick Clark for this production with a bow to the sumptuous trappings of class and privilege) but this is also a world of text messaging and mobiles. (more…)
20
May
Posted:
May 20, 2016 Friday at 10:18 am