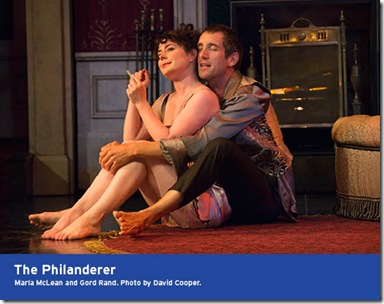 Photo: David Cooper. Featuring Marla  McLean and Gord Rand.
NIAGARA-ONTHE-LAKE, Ont. — We're not really getting full nudity on the stage of the Festival Theatre, but that's still what the opening moments of The Philanderer manage to suggest.
We're privy to a couple still in lustful embrace, and they leave us in no doubt about what has just taken place. The man is Leonard Charteris, an accomplished womanizer whose sexual confidence is only matched by his sense of sexual entitlement. The woman is Grace Tranfield, a current conquest and a young widow who has managed to convince herself that the charismatic Leonard is her new soul mate.