Shaw Festival 2012
Reviewed by Alvina Ruprecht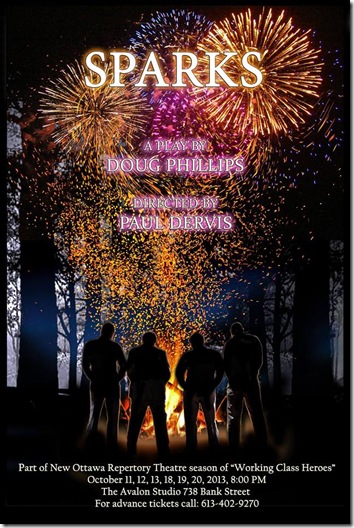 Poster courtesy of the New Ottawa Repertory Theatre.  Sparks, a new play for a brand new theatre space seems like a fitting choice as the New Ottawa Repertory Theatre opened its 2013-14 season with the work by Doug Phillips, Sparks. NORT performances are usually seen at the Ottawa Theatre School on Picton Avenue in Westboro Village but this time they are one flight up at 738 Bank Street which has been transformed into a modern space for theatre classes as well as an acting space for small theatre productions.
Clearly, the whole evening was in a discovery mode. Sparks takes place in a fireworks factory in Smith Falls, where six workers are re-packing fireworks to be sent around the world. Each worker, two women and four men, has his/her own obsessions, personal problems and they all pour out during that hour long show as they stand behind the packing table putting fireworks in the boxes. Moments with Jennifer Vallence as the provocative Cindy are excellent and the withdrawn Charlie Ebbs, who never eats lunch, creates a sense of pathos that might have gone even further. Tensions build, tempers fly as all the frustrations of this microcosm of the Canadian working class, are thrown back at the "ruling classes", represented by the owner of the plant, Julie (Annette Cole). Director Paul Dervis fittingly placed her in an office on the upper level of the stage to represent the power that dominates them all and controls their lives.
12
Oct
Posted:
October 12, 2013 Saturday at 1:11 pm
Reviewed by Herbert Simpson

Photo: Stratford Festival. I've loved this play ever since I saw the incomparable Ruth Gordon enchant her audience and everyone on stage in it as Dolly Levi some 56 years ago. What I did not know was that Wilder completed it in Stratford, Ontario when
Tyrone Guthrie invited him to work there on revising his unsuccessful source-play, The Merchant of Yonkers. In fact, Guthrie, Stratford's founding director, won a Tony Award for best direction on Broadway with The Matchmaker. It now plays less often than the musical adapted from it, Hello, Dolly! ; but much of Wilder's beloved wit and even a lot of his madcap farcical comedy get lost in the musical.
14
Jun
Posted:
June 14, 2012 Thursday at 5:36 am