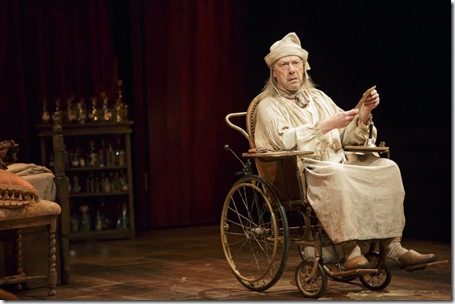 Photo: David Hou  Stephen Ouimette as Argon.
Le Medecin Malgré lui (The Hypochondriac) by Molière. In a new version by Richard Bean from a literal translation by Chris Campbell, directed by  Antoni Cimolino
STRATFORD, Ont. —  Initially, nothing much seems to be happening when the lights go up on the stage of the Festival Theatre. There's just Argon, this bedraggled creature in a grubby nightgown, painstakingly going through a pile of papers that turn out to be bills for medical treatment. But as Argon goes through these documents,  on occasion almost fondling them with indecent affection, it becomes clear that these billings are mainly in the service of one  preoccupation — the state of his bowels.
By this time we should also be conscious that he's enthroned on a commode, intent on passing a stool while he does his paperwork. Indeed, it won't be long before he's checking its contents — and this very act signals rapture more than than it does revulsion.
We're also becoming conscious of veteran actor Stephen Ouimette's brilliant way of  using detail — the tiniest of detail — as his building blocks. It's his way of bringing to life the character of the vain, ludicrously self-absorbed Argon in the Stratford Festival's production of The Hypochondriac.