Do you want what I have got? A Craigslist Cantata; Witty Cyber Hi-jinx at the NAC.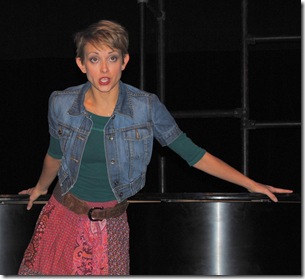 Bree Greig  Photo: Barbara Gray
Fans of the Cantata singers of Ottawa might wonder what the relation is between Craigslist and their own style of singing and musical accompaniment but they should be reassured that this is much closer to Cabaret . This collage of musical numbers that work to different degrees, brings together various popular rhythms , dance music, Kurt Weill "ish" sounds of discordant and dramatic moments, musical parody and a lot more. A generally good musical score underlies this quirky musical event bringing to life a musical and physical interpretation of the nature of that web site that advertises everything, that seeks anything at all . It accumulates ads and letters that don't connect, that don't allow for any kind of traditional dramatic thread. In other words, at first glance it all appears to be pure chaos, projecting a cyber-microcosm of people searching for everything and anything and then wondering if anyone is listening, or if anyone cares! At least the musical plays heavily on that theme. Each musical number is an independent moment of its own and each number stands alone, some more strongly than others. Each one reveals the most intimate needs of the voices on line, transformed into musical sound expressing the most intimate desires, the most special lifestyles, the most inhabitual objects one searches for or needs to get rid of. And it all moves about on Robin Fisher's set that shows rows of compartments along the back, representing the many categories that construct the site in space.