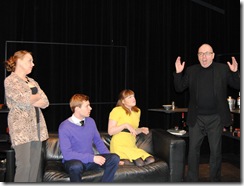 Photo Barb Gray
It's always rewarding to watch a gifted actor like Paul Rainville
exert his effortless authority on stage.It is, to begin with, a matter of presence — and Rainville always has that in spades. But beyond that, there's the way he will inhabit and define a character — an approach that well goes beyond mere technical expertise.
Currently at the Gladstone, he's delivering a fascinating portrayal of George — the middle-aged academic failure who provides one half of the marital battleground that comprises Who's Afraid Of Virginia Woolf? There are surprises in what he does here. There are few glimpses of the passive-aggressive husband who often surfaces in productions of Edward Albee's 1962 play. This George, for all his vulnerabilities, never seems that much of a victim to the vicious verbal taunting of his wife Martha, a booze-soaked harridan whose mainform of recreation amidst the shambles of a disappointing life is to keep tearing the scabs off an increasingly scarred relationship. In the world of 34-year-old Edward Albee, indulging in this kind of domestic warfare fulfilled his vision of how an awful relationship might be sustained: behave abominably enough to force retaliation from the other side and you achieve some manner of real human contact no matter how emotionally bruising the consequences.