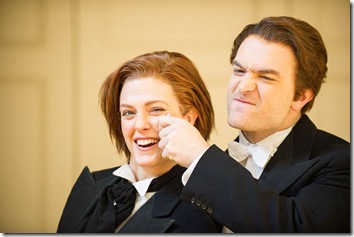 Wallis Giunta as Cherubino, John Brancy as Figaro. Photo Andrew Alexander.
Wagner's vision of Opera was essentially the Gesamtkunstwerk, a dialogue of all the arts. There is no doubt that the public often perceives Opera as essentially a musical performance (instrumental and vocal) but I have always felt that a performance of "théâtre chanté" which is where Mozart found the purist expression of his dramatic genius, must include all elements of a staged production to do justice to the meanings imbedded in that wonderful music.
Take the overture to the Marriage of Figaro . Last night, it t burst upon us at a most furious clip, under the impeccable playing of the musicians and the magical direction of Kevin Mallon. It left me out of breath and perfectly in the mood to receive what was coming: a light hearted, deliciously playful outpouring of "théâtre comique". I was not disappointed….for the most part. The voices were excellent expressions of that dramatic genius as they transformed their recitatives and their arias into truly theatrical moments of comic acting, Opera buffa met Opéra comique in one of the most enjoyable evenings I have spent at Opera Lyra in a long while.