Opera
Reviewed by Jamie Portman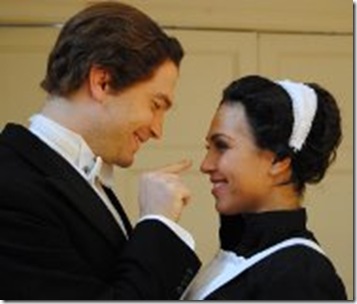 Photo: Barb Gray. John Brancy and Sacha Djihanian
It's pretty obvious that Opera Lyra is making a pitch to the Downton Abbey fan club by attempting an early 20th Century take on The Marriage Of Figaro.
Halfway through the overture, we get a glimpse of servants being assembled in front of the stately English exterior of "Highclere Castle" and inspected by a dignified butler. The scene is a somewhat tiresome contrivance, and not really in synch with Mozart's music. And, let's face it — the the music is what counts in this production, and, happily, the playing of the overture already has us appreciating the silken elegance of the National Arts Centre Orchestra's contribution to the evening under conductor Kevin Mallon.
So when it comes to honouring the Mozartian soundscape, the delights the production provides are manifest. For the most part, this is a beautifully sung Figaro, featuring some stellar work from the principals, and in particular a notably engaging performance on all fronts from Wallis Giunta in the trouser role of the lovelorn pageboy, Cherubino.
23
Mar
Posted:
March 23, 2015 Monday at 9:25 am