National theatre live by satellite
Reviewed by Alvina Ruprecht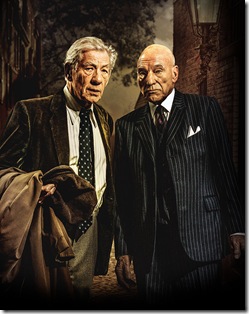 Photo courtesy of National Theatre Live. Ian McKellen and Patrick Stewart
Those of us who cannot dash off to London, now have the chance to see some of the greatest English language theatrical productions in the world  as filmed theatre comes to our  local cinemas by satellite.
This version of Harold Pinter's   No Man's Land, filmed from the Wyndham Theatre in London's West End is just one of those wonders. It was originally produced at the Old Vic in 1975   starring the "two sirs" John Gielgud and Ralph Richardson and has since toured and been given numerous productions.
In this case, the show was followed by an excellent question and answer period which let us see these actors , also two sirs, who are old friends, going  back to their first contact with this play and with the theatre in general. In fact this experience was all the more special for us because it reveals the complicity of the actors, as if it were all taking place in the real home of Patrick Stewart (Hirst), who had just invited Ian McKellen (Spooner) in for a drink and then by accident spilt coffee on his jacket and had to wipe it off with a napkin! "That did happen" said Stewart "but I didn't think anything of it, I just wiped! "  Of course we  are "pissed" adds McKellen so delicately  but even when we learn that the characters have just met in a pub in upper crust  Hampstead Heath, it doesn't quite seem possible because of the closeness  they exude along with a slightly playful familiarity that feeds the  naturalism of their performance style.
22
Dec
Posted:
December 22, 2016 Thursday at 10:06 pm
News from Capital Critics Circle
★★★★★
'Ian McKellen and Patrick Stewart are unmissable'  Daily Telegraph
Take a first look at No Man's Land on stage

In one of Harold Pinter's most entertaining plays, two ageing writers, Spooner and Hirst, meet in a Hampstead pub and continue their drinking into the night at Hirst's stately house nearby.  
As they become increasingly inebriated, their conversation turns into a revealing power game, further complicated by the return home of two sinister younger men. Watch the trailer >
In cinemas from December 15. 
13
Nov
Posted:
November 13, 2016 Sunday at 5:17 pm
Reviewed by Alvina Ruprecht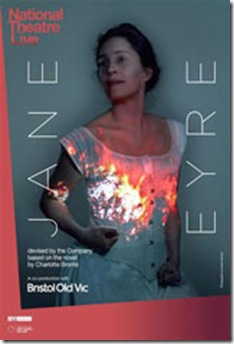 Photo from the site of  Front Row Centre.
The National Theatre of London's adaptation of Bronte's novel Jane Eyre that reached us live by satellite recently was the result of a collective effort on the part of all the actors, so we were told during interviews conducted during the intermission.  Ultimately, it was  Sally Cookson who imposed the final directorial choices,  intent on emphasizing the strength of this legendary heroine, who survived çruel  treatment at the hands of her "step" family .
The play opens with the birth of little Jane who is passed on to her Aunt  upon the death of her uncle and from that point on, much attention is focussed on  the aggression and meanness to which she was subjected as a young girl. Madeleine Worrall as Jane Eyre in this early portion of the play purses her lips, squints, tightens her facial muscles and shows us what a tough little creature she is becoming  as she swallows the insults, the taunting, and  vicious behaviour of her cousins and aunt who toss her off  though she were some filthy Cinderella. The fable becomes an  adult horror story  that allows our heroine to rise out of the emotional rubble and establish her own strong presence as a mature woman.
18
Dec
Posted:
December 18, 2015 Friday at 1:42 pm