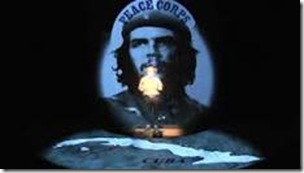 Photo: David Leclerc
The sound booms book-ending Rick Miller's packed ride from 1945 to 1969 are the world-changing release of the first atomic bomb on Hiroshima and the Apollo 11 moon landing in 1969.
The baby boomers, born, raised and living through those tumultuous years, are invited to relive their memories through Miller's lens, a combination of multi-media flashes, impressions (some more successful than others), comic twists and the stories of three people with very different backgrounds: Miller's mother, Madeline, originally from Coburg, Ontario; Laurence, an African-American draft dodger and jazz pianist; and Rudy, an Austrian who immigrated to Canada after the Second World War to become an advertising executive and illustrator.
As well as the kaleidoscope of political, cultural and social events with which Miller's Boom bombards us, replays of advertisements of the period — oddly amusing from the perspective of the 21st century — remind us just how much times have changed.