NAC english
Reviewed by Jamie Portman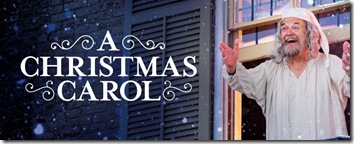 Andy Jones as Scrooge at the  NAC.                   
                                                                        John D. Huston as Dickens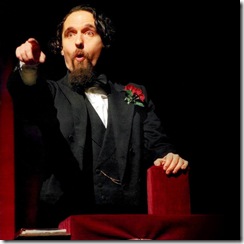 There's no doubt that the National Arts Centre has unleashed an intriguing production of something this Yuletide season. And yes, it purports to be A Christmas Carol —   indeed the printed program tells us that  the Dickens classic has been adapted and directed by Jillian Keiley, the NAC's restlessly inventive head of English theatre.
Before traditionalists go into meltdown over what's taking place at the NAC Theatre, they may find comfort in the fact  that the arts centre doesn't hold the  corner on the Scrooge market in Ottawa this December — not with John D. Huston holding court a few kilometres away at the Gladstone with his one-man version of A Christmas Carol. The two shows present a sharp contrast — with Huston unrepentantly drenched in tradition and the arts centre taking, shall we say, a more cavalier approach.
20
Dec
Posted:
December 20, 2016 Tuesday at 2:57 pm