Musical Theatre
Reviewed by Iris Winston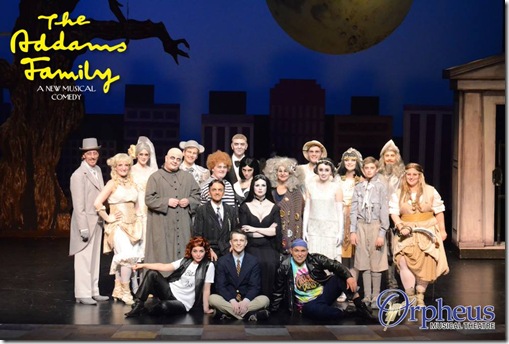 Photo, courtesy of Orpheus Musical Theatre
Charles Addams has a lot to answer for. He was the cartoonist who created the one-panel cartoons about the ghoulish Addams Family that appeared in the New Yorker magazine in 1938.
He could not know that his creation would become an American institution. Stories of the family morphed into a television sitcom in the 1960s, followed by a cartoon version in the next decade, two movies in 1991 (starring Anjelica Houston) and 1993 (The Addams Family Values) and even a video game and a very popular pinball machine later in the decade. Finally, in 2010, Marshall Brickman and Rick Elice (the pair who wrote the script of The Jersey Boys) developed a Broadway musical version with music and lyrics by Andrew Lippa.
Does the musical work? As much as any one-gag repeater with a wafer-thin storyline and constant reminders of one-panel cartoons can. Does Orpheus Musical Theatre Society make the most of a mediocre product? Unquestionably.
19
Nov
Posted:
November 19, 2016 Saturday at 9:21 pm